About Small Group Training
1. Fun variety of Mat based Pilates, Flow Yoga, Restorative Yoga and Prop (foam roller and magic circle )classes.
2. Flexibility to drop in for a class or commit to the full 10 week session.
3. Dig deeper in a quarterly Workshop.
Pricing is based on number of sessions or combination of services bundled for a package price. Special annual pricing is available and payable monthly with a one year commitment. Give me a call to get the details.
1. Following introductory sessions, all packages must be paid in full in advance of the start of the first package session.
2. All packages are non-refundable and sessions expire 6 months from date of purchase.
3. 24 hour cancellation policy – Please contact the studio at least 24 hours prior to your session to reschedule. Sessions cancelled with less than 24 hour notice will be charged for the session. All clients are given 2 late cancellations during the calendar year to account for the unforeseen.
4. Footwear – Toe Socks (sticky bottom socks), Flexible sports shoes (for core align), or socks must be worn in the studio.
Frequently Asked Questions
In short, mat is the most challenging point of entry for Pilates. You are moving under your own power using just your body and maybe a roller or a circle or a strap (not traditional work). With the apparatus, the equipment provides a deeper level of feedback, through the straps or springs the work can be adjusted to be more assistive or more challenging and advanced as you progress. This feedback and deeper connection to the work can then be brought with you to your mat to inform the workout there.
If you had a Pilates or Yoga practice prior to becoming pregnant and you are cleared by your doctor to exercise, it is generally safe to practice with modifications as you progress through your pregnancy. As you should at all times, listen to your body and abide by what you hear. Pilates is phenomenal post partum work as well. As soon as your doctor clears you for exercise Pilates is a great way to get those abdominal and pelvic floor muscles back on track.
I teach a restorative yoga called Yapana. It is a form of restorative yoga created by LeeAnn Carey. In this form we teach traditional yoga poses using props (bolsters, straps, blocks, and blankets) to bring the pose to the student as opposed to trying to force the student into a place that may not be working today. I teach the skills of the practice and how to apply those skills to a pose. This differs a bit from a traditional flow class because it is not uncommon for us to stop and break down the mechanics of a pose to insure that everyone is feeling it and in good form. It is always a great learning and stretching experience.
Workshops are offered quarterly or on request if you have a group and a topic that you would like to cover. Typically a workshop will be 3 hours in duration and be made up of a short introduction to the topic and then hands on work where I'll break down the topic and you will experience the work for yourself. Topics may include: Breaking Down the Downdog, Achieving Flight in Arm Balances, and Create a Personal Restorative Home Practice
Small Group Mat Classes and Workshops
Small group mat classes are one hour classes with a maximum of 8 students. The mixed class format includes, Pilates Mat, Flow Yoga, Restorative Yoga, Foam Roller class and Ring Toner class. This is truly a melody of formats. Some weeks the formats are combined to work across disciplines and other weeks we dive a bit deeper into one area. It is not uncommon in these classes for the format and pace of the class to be set by the participants based on what is requested/needed after a long day.
Workshops are typically 3 hour classes designed to dive deep into a specific topic. We may work on the mechanics of arm balances, where you leave with the empowerment to fly if only for a few seconds *smile*. Or create a restorative home based practice with the goal of improving desk dwelling posture and reduce stress on the neck, shoulders and upper back. Workshops will be offered quarterly or upon request by a group at your location.
Check out the current class schedule here!

Pricing is based on your commitment.
| Package Name | Number of Sessions | Per Session Price | Package Price |
| --- | --- | --- | --- |
| Drop In Rate | 1 hour Class | $20.00 | Pay by the Class |
| 10 Week Session | 10 Classes | $15.00 | $150.00 |
| Workshops | 3 hour Workshop | Rates vary by workshop. | Pay by the Workshop |
Special annual pricing is available if you commit to a full year of training.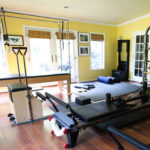 Interested in diving deeper into improving your movement and performance through an individualized program focused on your specific movement habits and challenges?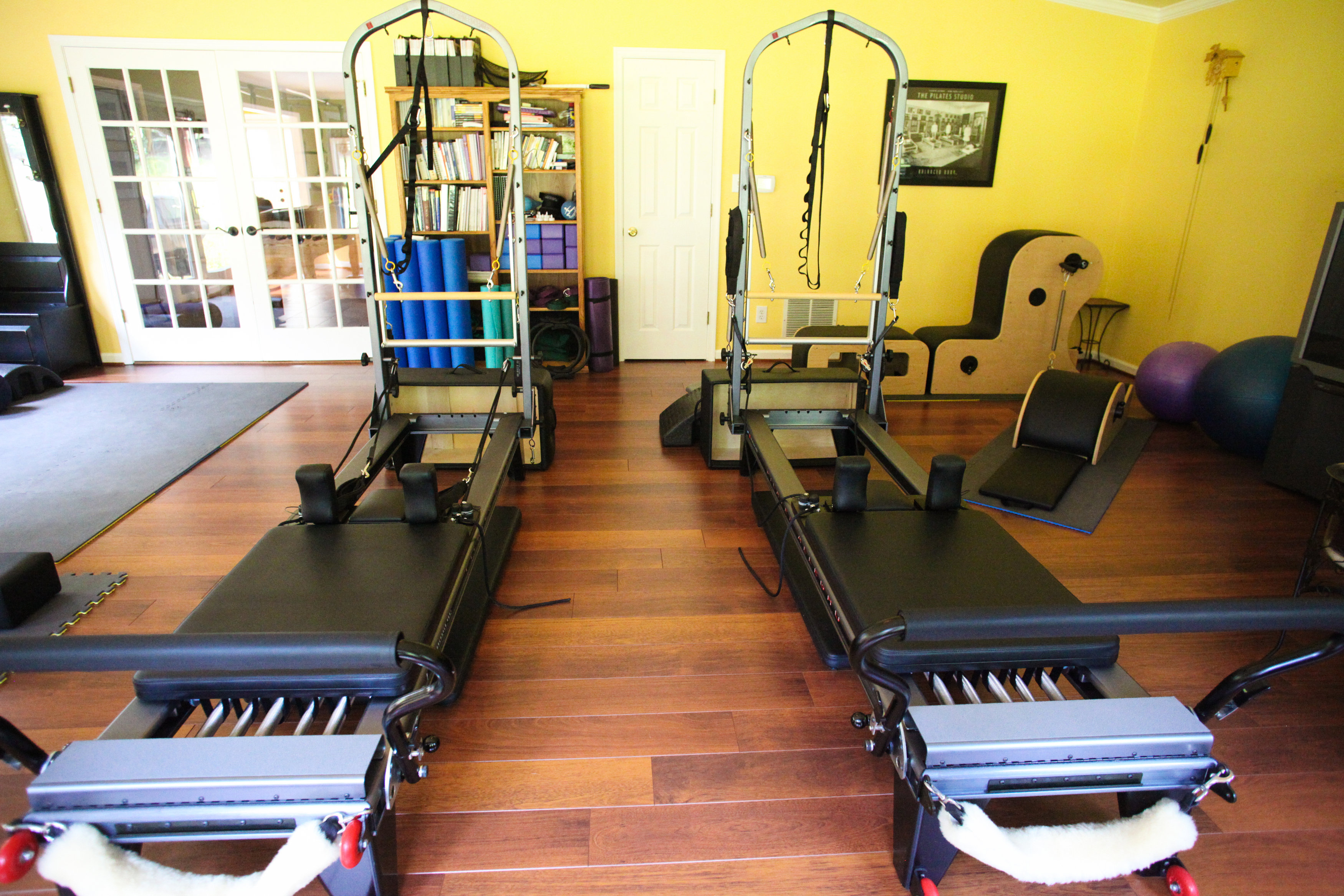 This program is designed for a team of two training together for one hour sessions.  Duet teams must be a similar fitness level and ability to ensure that both see progress from a team centered program.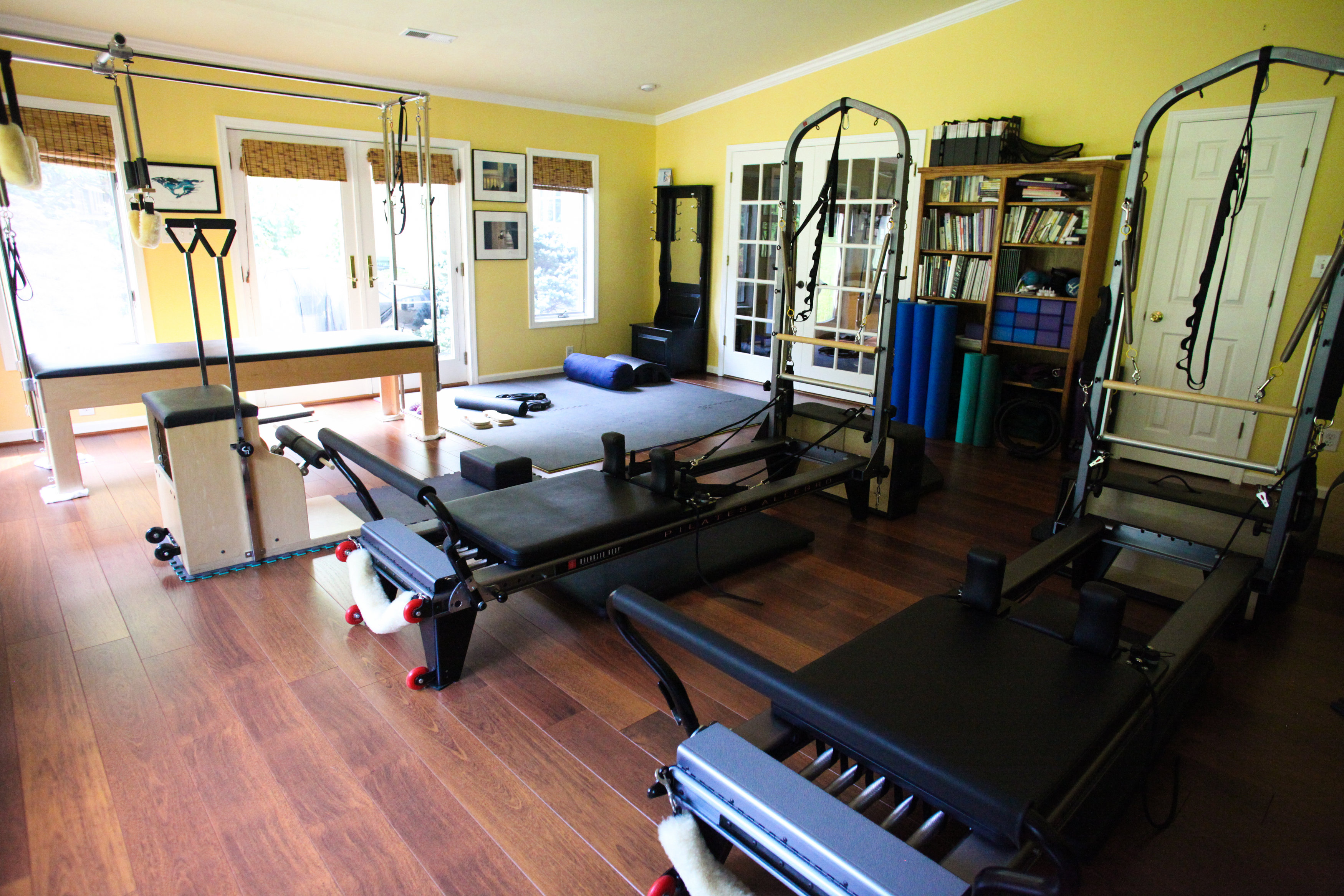 Get the benefit of tower/reformer, core align and combo/exo chair work for a fun workout in a small group. Ten week programs enable you to dig deep into the exercises to reach your goals.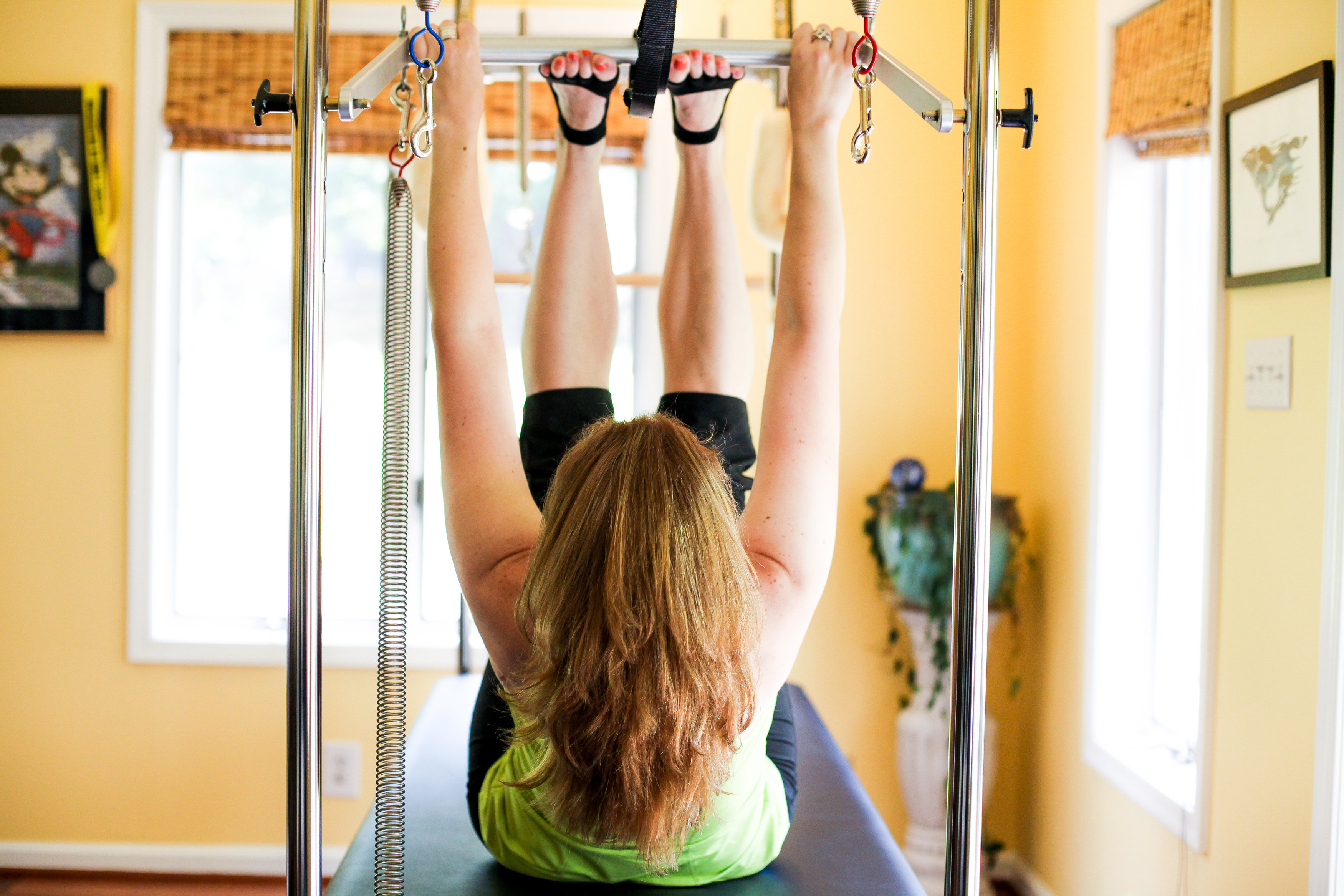 In the winter of 2006, my left knee joint was punctured in a car accident. Fortunately no one else was injured and the structure of my knee was relatively unaffected. I had around twenty stitches…