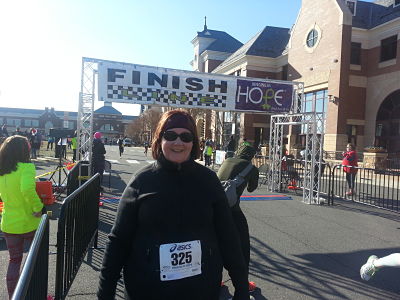 One thing is for sure when it comes to a cancer diagnosis… Surviving is JUST the Beginning! 
You ARE a cancer survivor the day you are diagnosed.
There is so much no one prepares you for when treatment comes to an end.
Can't concentrate, stay on task, or brain fog wearing you out?
Did treatment leave you with chronic pain that just won't quit?
Neuropathy got you unsteady on your feet?
Did you know studies report exercise lowers risk of  cancer recurrence by approximately 30%?
No idea where to start and fearful of an injury or increased pain?
Case Study →From no energy  and 40 extra pounds post treatment to crushing hard things.
Throughout Sue's treatment for breast cancer she continued to work her 8 hours or more a day sitting at a desk. During treatment Sue was tired, had no energy to move her body in the activities of daily living, and gained an unwanted 40 extra pounds.  
Despite exercise NOT being her jam, shortly after treatment ended, she participated in a 5k walk in support of breast cancer research. She was in serious pain for weeks after. 
THE TRUTH ABOUT POSTURE, WEIGHT GAIN, AND BREAST CANCER CHEMO TREATMENTS
No one told Sue after breast cancer surgeries it is normal to have protective postures and a more pronounced forward head, especially if you work at a desk.  Her doctor did not warn her about the fact that breast cancer chemo treatment tends to cause weight gain not weight loss. 
To make matters worse, now her doctors were telling her she needed to lose weight and she didn't want to look like the hunchback of Notre Dame.
THE SOLUTION→ EVEN FOR SOMEONE WHO DISLIKES EXERCISE
We met when I was working as a Pilates teacher at a health club with a special membership for cancer survivors. Sue came for her first session, we started with the basics.
Since her posture was such that it was challenging to lay flat on the floor without significant support for her head, we started with a rolled blanket bolster and a block under her head to fill the gap from shoulders to head to start to gently open up the chest and stretch those areas impacted from surgeries.
The amazing thing about Pilates is that every session something is easier than the last, even for someone like Sue who felt exercise was not her jam.
ENTER PHYSICAL WINS & WEIGHT LOSS
Sue started to see small improvements. She could step onto the bus, rather than pull herself onto the bus with her arms. She was starting to stand a little taller and less and less bolstering was required to lay on the floor. Getting up and down from the floor was becoming easier, a skill we all need to have.
After nearly a year of regular Pilates, the scale showed a loss of 20 pounds, but her body was 8 clothing sizes smaller.  The best part Sue was stronger and more confident.
ENTER HEALTH COACHING TO SHIFT THOSE LIMITING BELIEFS
Sue was stronger and more confident, but still unwilling to increase cardio exercise.  
Sue's difficult experience of walking a 5k that left her in serious pain created a mental scar that limited her from cardio like movement.
"WALKING IS BAD!"  ← That is the refrain Sue unconsciously heard when cardio was mentioned.  
We had to find a way to make cardio "good" rather than "bad" or scary. 
Through health coaching we worked to identify and shift the story of "walking is bad." 
THE REAL TEST
Now it was time to put our work to the test. 
Sue joined a walking group that I ran that fall. After 4 weeks, meeting at the trail each week, she was easily walking a 5k distance once a week. We agreed to walk an upcoming New Year's 5k together to put the idea that walking is hard and painful to rest once and for all.
The day of the walk her self-talk was challenging and Sue worried about half way through the 5K, what would happen if she did not finish.  
Then Sue remembered she had the tools to keep going and I was right there beside her to ensure she felt supported the entire time.  Sue needed this win and she got it!
Then at the end she walked across the finish line with a big smile. Thank goodness I snapped the photo! Sometimes we all forget it (whatever "its" is) is totally doable. The photo is proof she can do it on the days she forgets.