People are weird.
Especially when it comes to someone else's cancer. I could have stopped at people are weird. ALL PEOPLE. Yes, even you. When I was in the dating world, I met a lot of interesting people. One day a friend said, these people are soooo crazy. My reply was, everyone is crazy what makes a relationship work is that your crazy meshes and compliments one another. That is really how the world is. When it comes to cancer everyone has had an experience. Some close, some distant. Either way it formed a notion about what cancer is. Never mind, that it actually means over 100 different things. If we approach our interactions from a place of everyone is weird, is it easier to let go of whatever comes out of their mouth? What shifts for you if you accept that everyone is weird? 
Continue the conversation in the facebook group Surviving is JUST the Beginning or follow me on Instagram.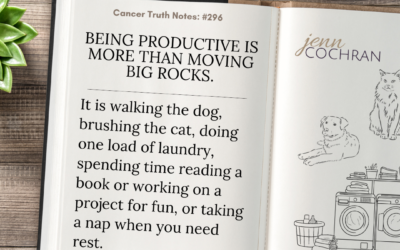 Cancer Truth Note: #296 Being productive is more than moving the big rocks. It is walking the dog, brushing the cat, doing one load of laundry, spending time reading a book or working on a project for fun, or taking a nap when you need rest. A cancer diagnosis often...
read more