Second opinions are not disrespectful.
Sometimes you are fortunate. You have friends who refer a doctor they love and trust or our trusted doctor refers us to another specialist. You meet them and are comfortable. What they say makes sense and their pieces fit into the puzzle you are putting together.  Your questions are answered. Decisions are easy. Your plan is moving along.
Sometimes that is not the case. I talked with people who were stuck, they knew a choice needed to be made but they had questions and the current team was not working. Yet they resisted getting a second opinion, what would their team think?
If you are having trouble making a decision, a second opinion may help move things along. If a doctor is unable to answer your questions or is unwilling to discuss an option you want to explore, and they do not support you getting a second opinion from another board-certified doctor in their field, a second opinion may be exactly what you need.
The point of a second opinion is getting your questions answered and removing any barriers that are preventing the decision. When it comes to cancer, we don't always have the luxury of time we also may not like what we hear. If you get a second opinion and you hear the same thing, you have your answer and now you have two options to choose from. Getting the second opinion may actually be in service to the first doctor depending on your circumstance. The most important thing is knowing you moved forward with your questions answered and the best available choice at the time. If that means a second or third opinion do it. Where are you not making a decision or dragging your feet? Is another perspective the answer?
Continue the conversation in the facebook group Surviving is JUST the Beginning or follow me on Instagram.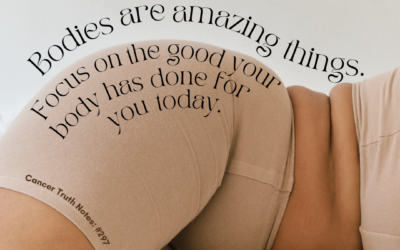 Cancer Truth Note: #297 Using negative words to describe your body brings you down. Bodies are amazing things. Focus on the good your body has done for you today. See how your mood and perspective shift. I often hear people use really harsh language when they talk...
read more