Someone who disappeared after your diagnosis and reappears later may not need to be vanquished from your life forever, unless they do. You get to choose.
Yesterday I flipped the script a bit on ghosting. Remember it is about them not you.
Often I hear cancer survivors say people in this category are out. Never to return.
Perhaps the person just could not be bothered with someone else's challenges. Great. You know where you stand and you can choose not to deal with them.
What if yesterday's post was true. They love you and value you as a friend, however, something made it impossible for them to show up and support you. Is it possible to re-engage with them on the other side of treatment?
I think it can be.
If you want to re-engage or they want to re-engage with you, having an open conversation about how you felt and clearing the air is important.
I had a friend who I didn't hear from after I told them about my diagnosis. She was having some difficult family challenges of her own and I think it was just too much to support a sick friend. My husband wanted to invite their family for a party we had after my treatment. I was a little grouchy about it. Then agreed.
A couple weeks before the party a mutual friend told her she needed to respond to the invitation.Not replying is not ok. A day later I got a text message with 10 reasons they may not make it. Not a no. A bunch of "we are busy that weekend, it might not work out".
I responded, I understood. We had not seen them since my diagnosis. If it was not going to work out for them that weekend and they wanted to see us in the future they could reach out and let us know.
Five minutes later, she responded YES. Then she texted me and asked me what she could bring and how she could help. They came early, stayed late to help us clean up, and visit a bit. The fact that she had not been there through my treatment made her feel like she couldn't come back. By stating it and putting the ball in her court, it opened the door in a way that said, this happened what happens from here forward is your call.
We are all going through something. People do not always disappear because they don't love us. We get to choose how we move forward
Did you let someone back in? Share how to help someone else see the possibilities.
Continue the conversation in the facebook group Surviving is JUST the Beginning or follow me on Instagram.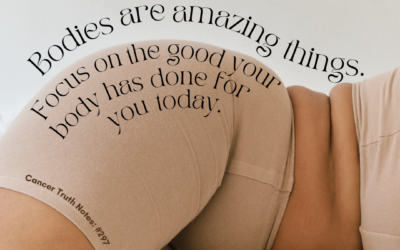 Cancer Truth Note: #297 Using negative words to describe your body brings you down. Bodies are amazing things. Focus on the good your body has done for you today. See how your mood and perspective shift. I often hear people use really harsh language when they talk...
read more