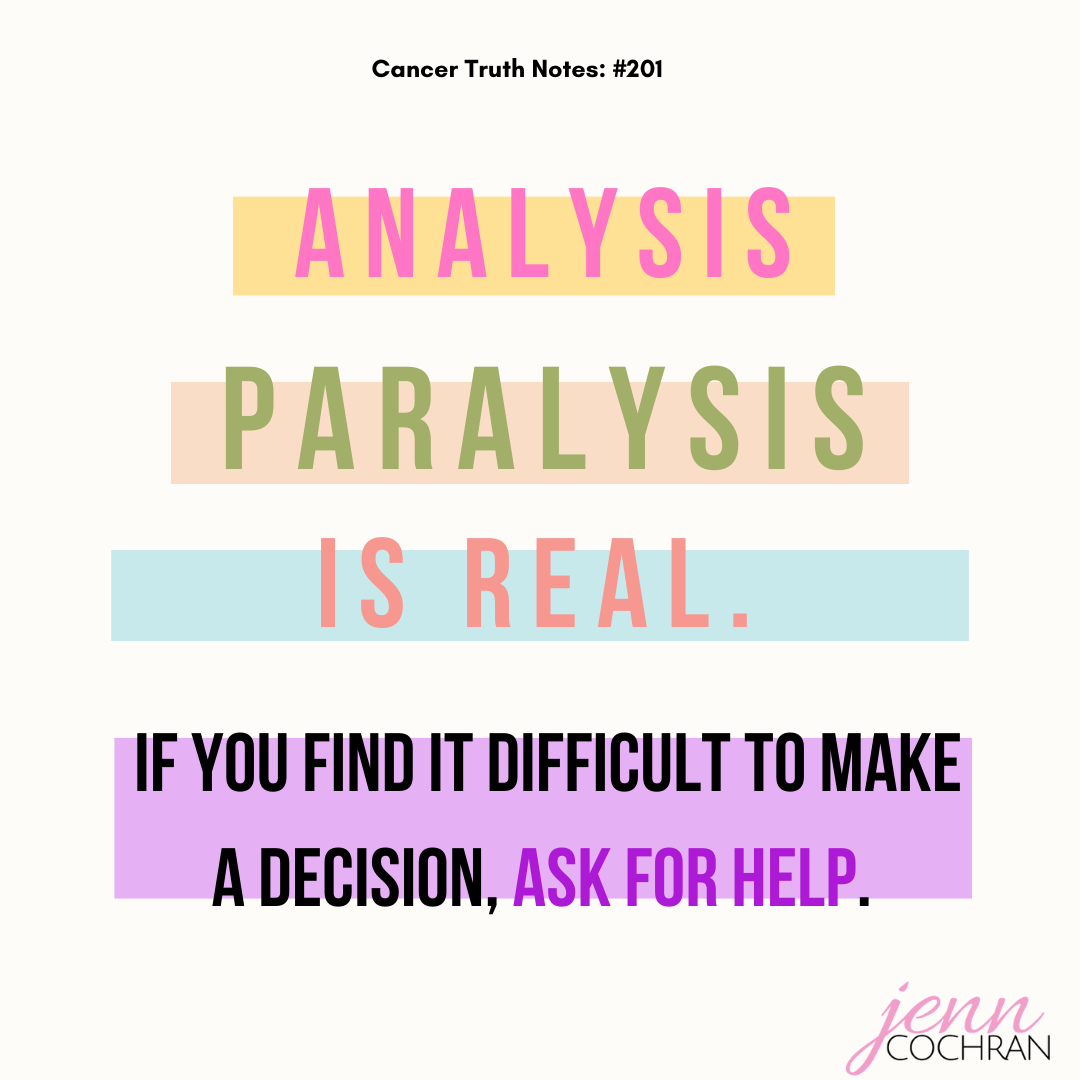 Analysis paralysis is real. If you find it difficult to make a decision, ask for help. 
This can happen at any phase of survivorship. In the beginning, there is so much information and so many decisions to be made, overwhelm is understandable. Then you shift from diagnosis to treatment and if you sail through with minimal unexpected side effects, there may not be much that needs a decision. Post treatment the medical guidance and support becomes more limited and knowing the next right thing on the road to healing may be confusing.
Add to that, everyone has an opinion and every type of exercise plan or eating guidance is the best. Every single one. At least that is how it sounds in sales brochures or elevator pitches.
If eating well and moving your body are on the list of things you are delaying decisions about here is some advice.
If you want to eat better, talk with a Registered Dietician (RD) or a certified Nutrition Specialist (CNS). They are the experts. They are going to talk to you about food, not fads. It may even be covered by insurance.
If you want to get moving, you can check out organizations like 2Unstoppable to find a buddy to exercise with; see if there are low cost trial memberships to a local recreation center so you can try some classes and see if it is the right place for you; or have a session with a trainer. When working with a trainer remember it is an interview. Skills are great, you want to like who you are working out with and trust they can challenge you safely.
Are you experiencing any analysis paralysis right now? How can I help?
Continue the conversation in the facebook group Surviving is JUST the Beginning or follow me on Instagram.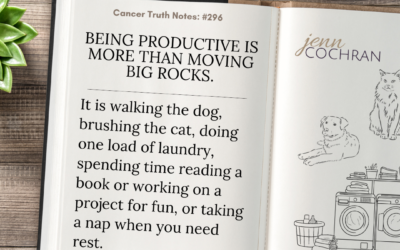 Cancer Truth Note: #296 Being productive is more than moving the big rocks. It is walking the dog, brushing the cat, doing one load of laundry, spending time reading a book or working on a project for fun, or taking a nap when you need rest. A cancer diagnosis often...
read more