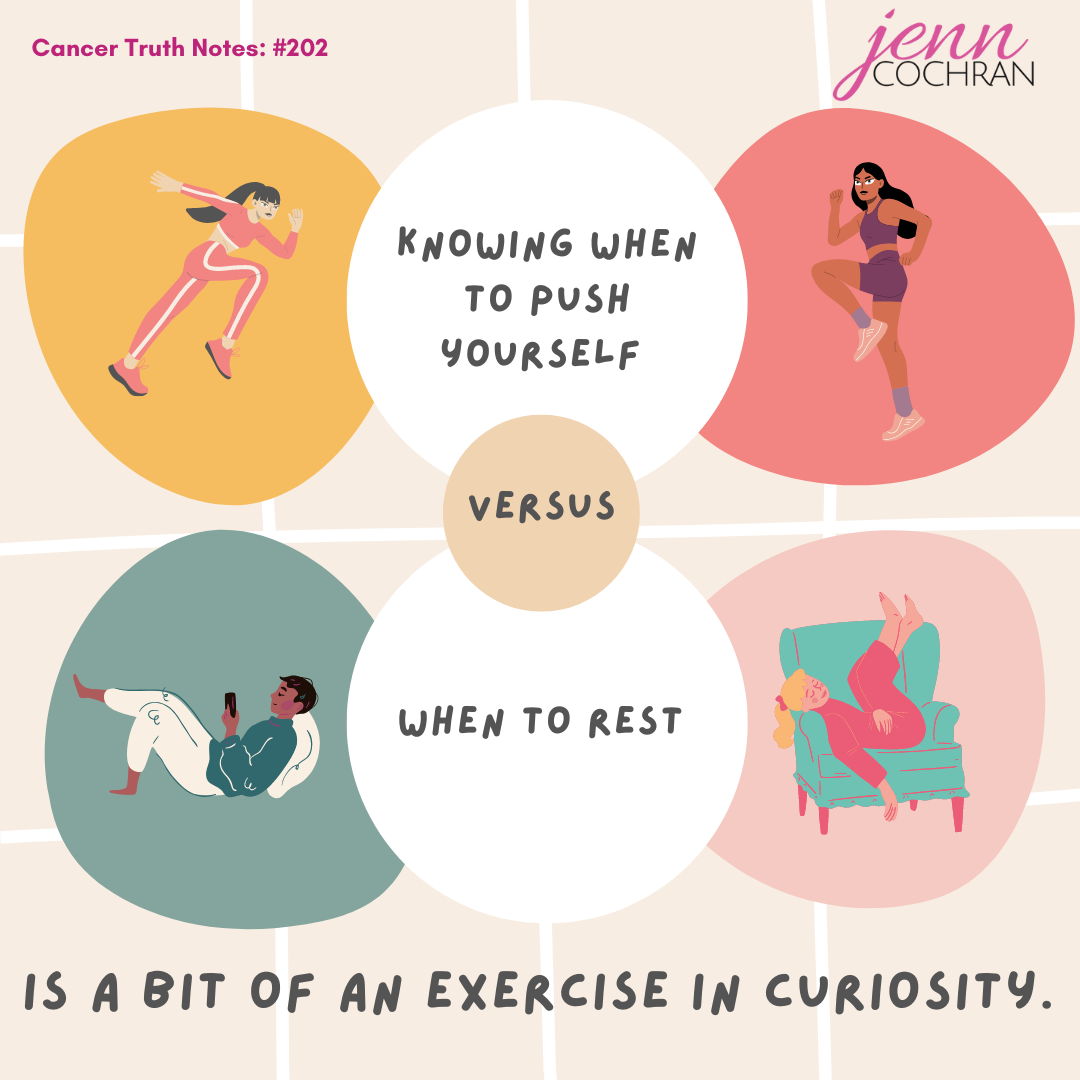 Knowing when to push yourself versus when to rest is a bit of an exercise in curiosity.
This has been coming up a lot lately in my discussions with people. On both sides of the question, I see people in need of rest and recovery trying to push through and people in need of getting moving again opting for "babying themselves". Or in a larger sense @Kelley Lennon Hopkins said it well in her comment to Cancer Truth Note #200 when she talked about taking smaller steps.
There is definitely a time for choosing rest. If you are recovering from surgery or an illness or injury and you find you are overdoing or more tired than you would be if you were 100%, take the rest.
Just like there is a time for rest, there is a time to get moving and then a time to start challenging yourself. Sometimes getting moving means you are sore after the fact. Curiosity comes into play when you ask, "is this an earned sore or an I overdid it and I should not have, kind of sore."
When I was recovering from my recent surgery, roaming around the house too much was sometimes overdoing it in a bad way. Once I was released to exercise again, my doctor made it clear, I had no exercise restrictions. Just getting through the course of my day was exhausting and caused my body to hurt. I was coming off 5 weeks of bed rest. Moving was necessary and the sore was not an indicator to do less, it was actually a sign that I needed to keep moving to rebuild my strength.
Have you faced these challenges? Need help getting curious? Let me know how I can help.
Continue the conversation in the facebook group Surviving is JUST the Beginning or follow me on Instagram.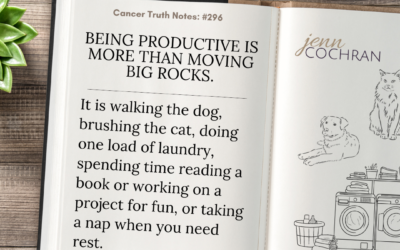 Cancer Truth Note: #296 Being productive is more than moving the big rocks. It is walking the dog, brushing the cat, doing one load of laundry, spending time reading a book or working on a project for fun, or taking a nap when you need rest. A cancer diagnosis often...
read more