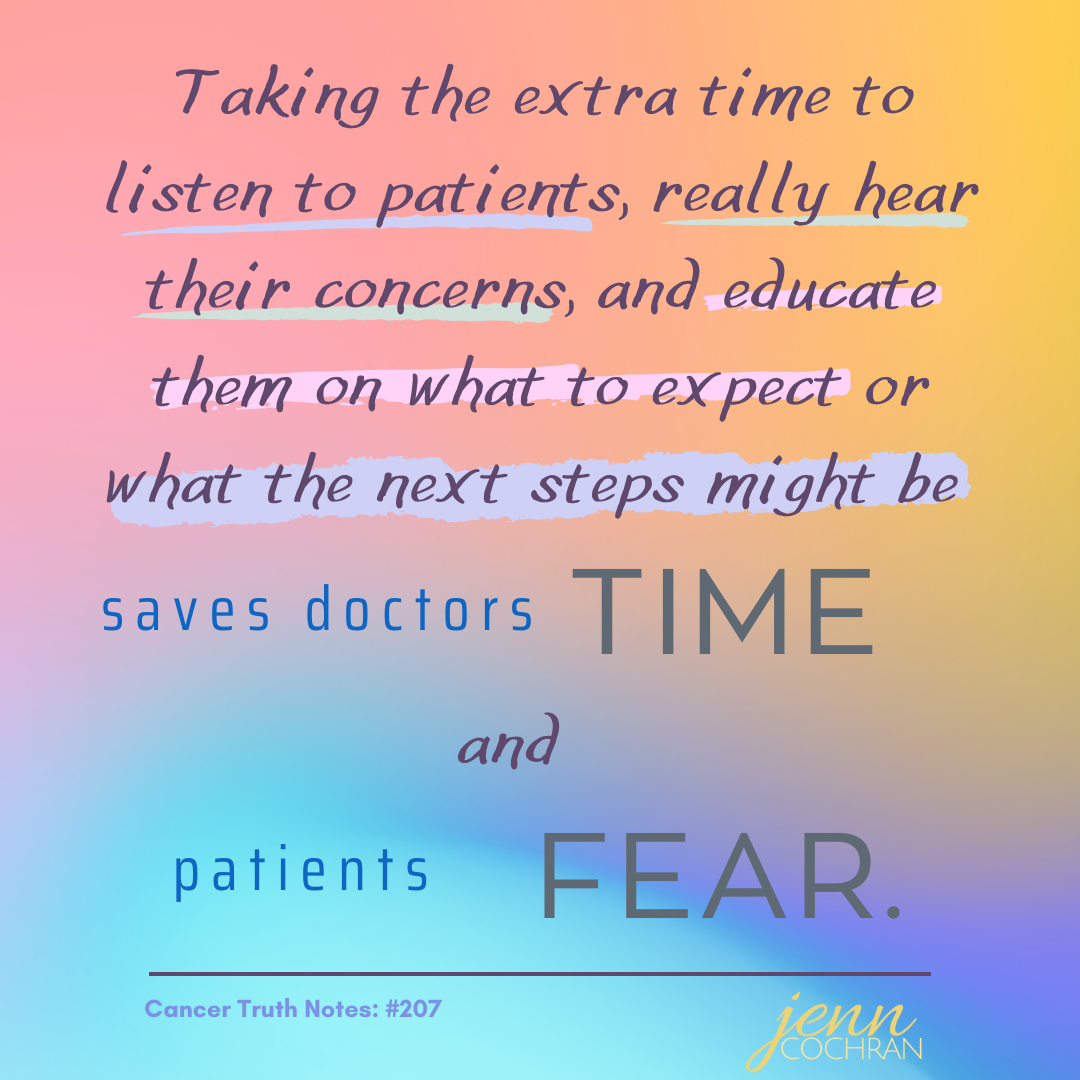 Taking the extra time to listen to patients, really hear their concerns, and educate them on what to expect or what the next steps might be saves doctors TIME and patients FEAR.
Time is a commodity most doctors do not have enough of.  If we are being honest not every patient needs a ton of time. Sometimes a 15 minute appointment can be done in 10 minutes because it is a follow up and everything is going great.
If everything is not going great, expectations need to be set, or re-set. I am not one to be overly concerned about surgery recovery. It takes how long it takes. With my recent surgery at the 4-week mark I had concerns. When I asked what would be normal, I didn't get an answer, I was just told I was doing too much. So does that mean that I should not be having this issue, because I am doing nothing. So if doing nothing and having a problem should I be concerned? No answer… just do less. Less than the nothing I am currently doing. Great. Got it. Clear as mud. Then I was told, every 4-hours you can roam around as long as you have no pain or pressure. Otherwise nothing. That was at least more than do less.
I had a client call recently who was scared. They had a problem and no one was explaining the situation or the perceived situation. Somehow they were referred to me by a clinic that did not have the credential required by the order to treat them. The first thing I did was listen to her. The second thing I did was ask questions to fill in the blanks. Third, I explained why the specialist she saw did what they needed to even though it didn't really seem like much. Her general practitioner had run all the necessary tests the specialist needed. At the end of the conversation she thanked me for two things; calling her back and educating her on what might be going on. She just needed to be heard and understand that help was available.
We have to do better in our doctors' practices, whether that means keeping a board certified health coach on staff to field patient concerns or fill in the education blanks or having longer appointments to educate patients. Something has to change.  
Have you had this experience? Do you still need answers?
Continue the conversation in the facebook group Surviving is JUST the Beginning or follow me on Instagram.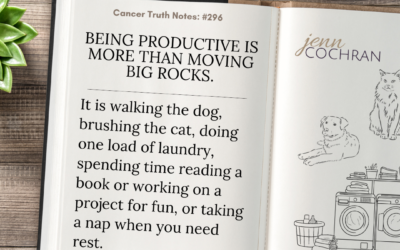 Cancer Truth Note: #296 Being productive is more than moving the big rocks. It is walking the dog, brushing the cat, doing one load of laundry, spending time reading a book or working on a project for fun, or taking a nap when you need rest. A cancer diagnosis often...
read more