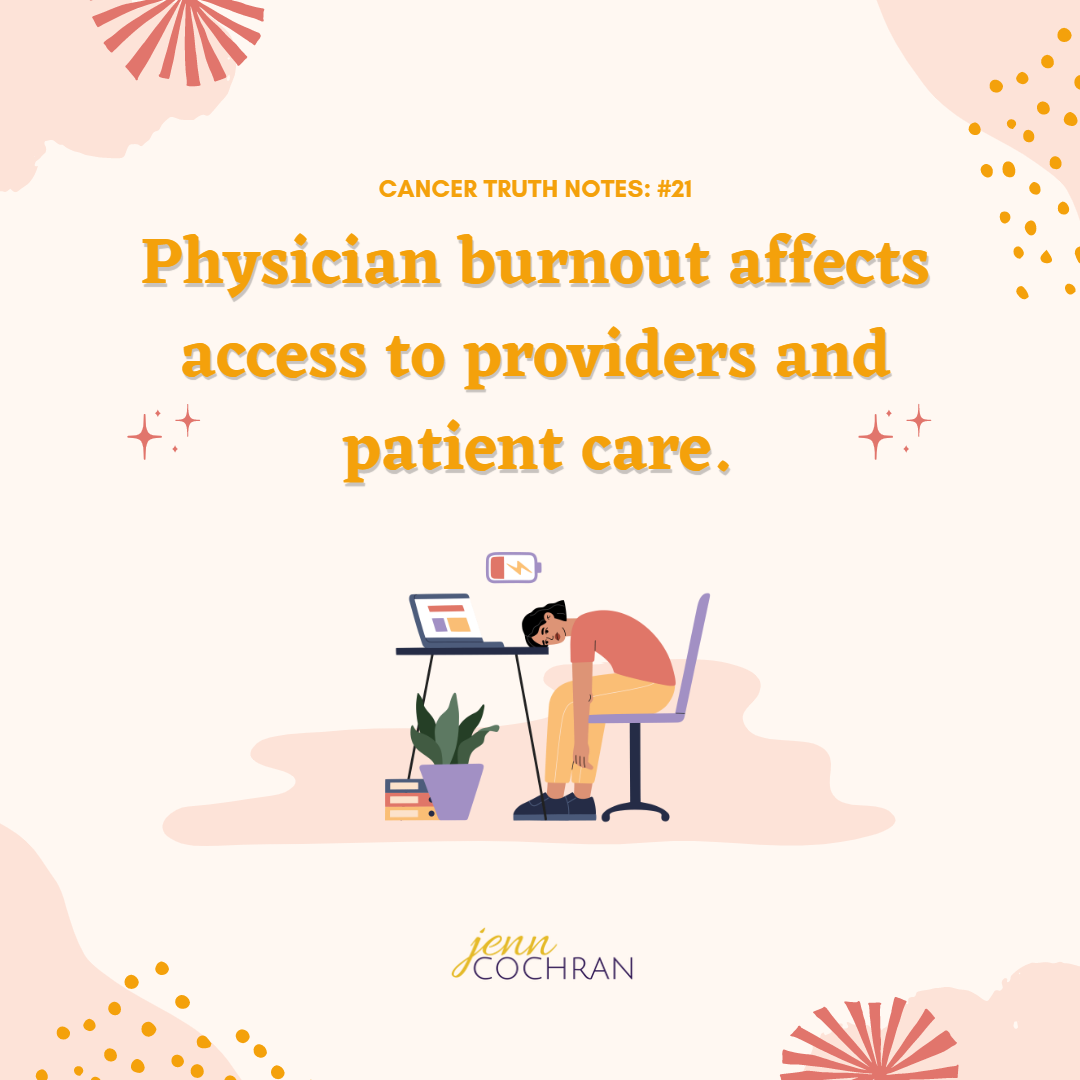 Physician burnout affects access to providers and patient care.
 In a study published by the Mayo Clinic in September of 2022, 62.8% of U.S. physicians reported burnout in 2021 compared with 38.2% in 2020. In the same study the Mayo clinic reported that 1 out of 5 providers intend to leave practice in the next 2 years.
When I started chemo, on the first day the nurse asked me if I had closed my business. I looked at her shocked and said, "NO, my doctor doesn't think I am going to have any significant issues until halfway through." She responded, "You will be incapacitated by Monday." It was a Friday. I said, "well I am going to go by what my doctor thinks. I am good until I'm not good anymore. Though I highly doubt that day will be Monday!" And it wasn't. Aside from a misdiagnosed reaction to chemo, which ended up being easily addressed once properly identified, I only took 2 days off work for chemo. I rested a lot in between, I sat if I needed to, but I kept seeing clients.
I later learned that the nurse was one week from leaving the practice, she was burned out and could not handle medical oncology any longer. I was fortunate that I was mentally in a good place when we had this exchange. I was able to confidently tell her I was not available for her opinion. But this is what burnout and compassion fatigue can look like to patients and we are not always in a place to see it for what it is. It can create fear where it doesn't need to be created.
While the pandemic meant hitting the pause button for many of us, it was the opposite for our doctors. Add to that, post covid, there have been higher than average cancer diagnosis rates due to people delaying screenings. Mental health is part of health. We need our medical teams to be healthy both physically and mentally, so that they can happily and safely stay in their career and patients can benefit from their skills. Is there somewhere you can push the pause button today? Or perhaps an exchange that seems different in hindsight through the lens of potential burnout?
Continue the conversation in the facebook group Surviving is JUST the Beginning or follow me on Instagram.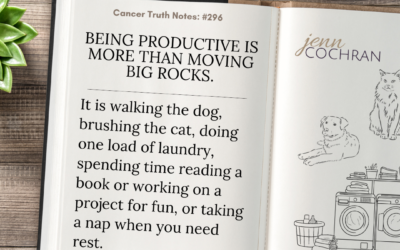 Cancer Truth Note: #296 Being productive is more than moving the big rocks. It is walking the dog, brushing the cat, doing one load of laundry, spending time reading a book or working on a project for fun, or taking a nap when you need rest. A cancer diagnosis often...
read more