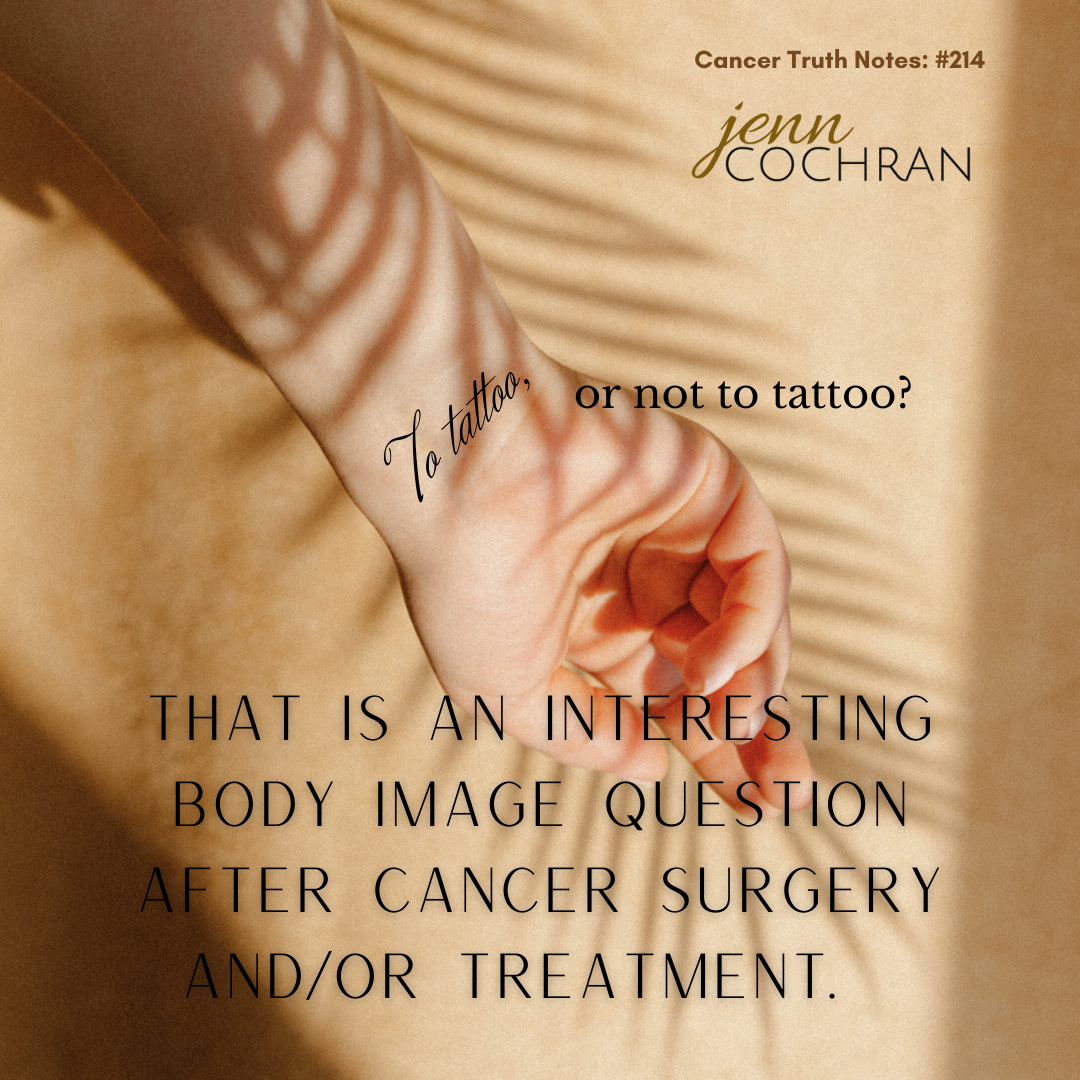 To tattoo, or not to tattoo? That is an interesting body image question after cancer surgery and/or treatment.
This falls into a couple of areas, permanent makeup like eyebrows and larger tattoos that may cover scars. In the land of breast cancer this is definitely a topic of conversation. There are a number of tattoo artists who specialize in eyebrows, scar camouflage, and 3D nipple tattoos.
I have talked with many people who have gotten nipple tattoos and the overwhelming response is that the tattoos are amazing and it improves how they feel when they look in the mirror. This seems to be one of the universal truths of breast cancer survivors who have gone this route. 
There are also people who have gone the bigger scar camouflage route. My plastic surgeon told me about one of her patients, who now has a koi pond tattooed on her chest across her mastectomy scars. I have also heard of flowers and other scenes. I think this is the way that I am leaning. Now that I have just passed the seven year mastectomy mark and the 6 year reconstruction mark, it might be time for me to give this some serious thought. I also have a friend that got a small tattoo to cover her port scar, since for a lot of us those are right on the front of your body less hideable in a bathing suit, tank top, or dress.
Tell me have you considered tattoos? Have you gotten tattoos to cover the scars? Did it boost your body image?
Continue the conversation in the facebook group Surviving is JUST the Beginning or follow me on Instagram.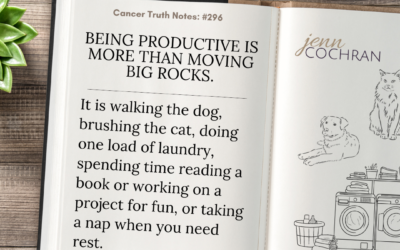 Cancer Truth Note: #296 Being productive is more than moving the big rocks. It is walking the dog, brushing the cat, doing one load of laundry, spending time reading a book or working on a project for fun, or taking a nap when you need rest. A cancer diagnosis often...
read more