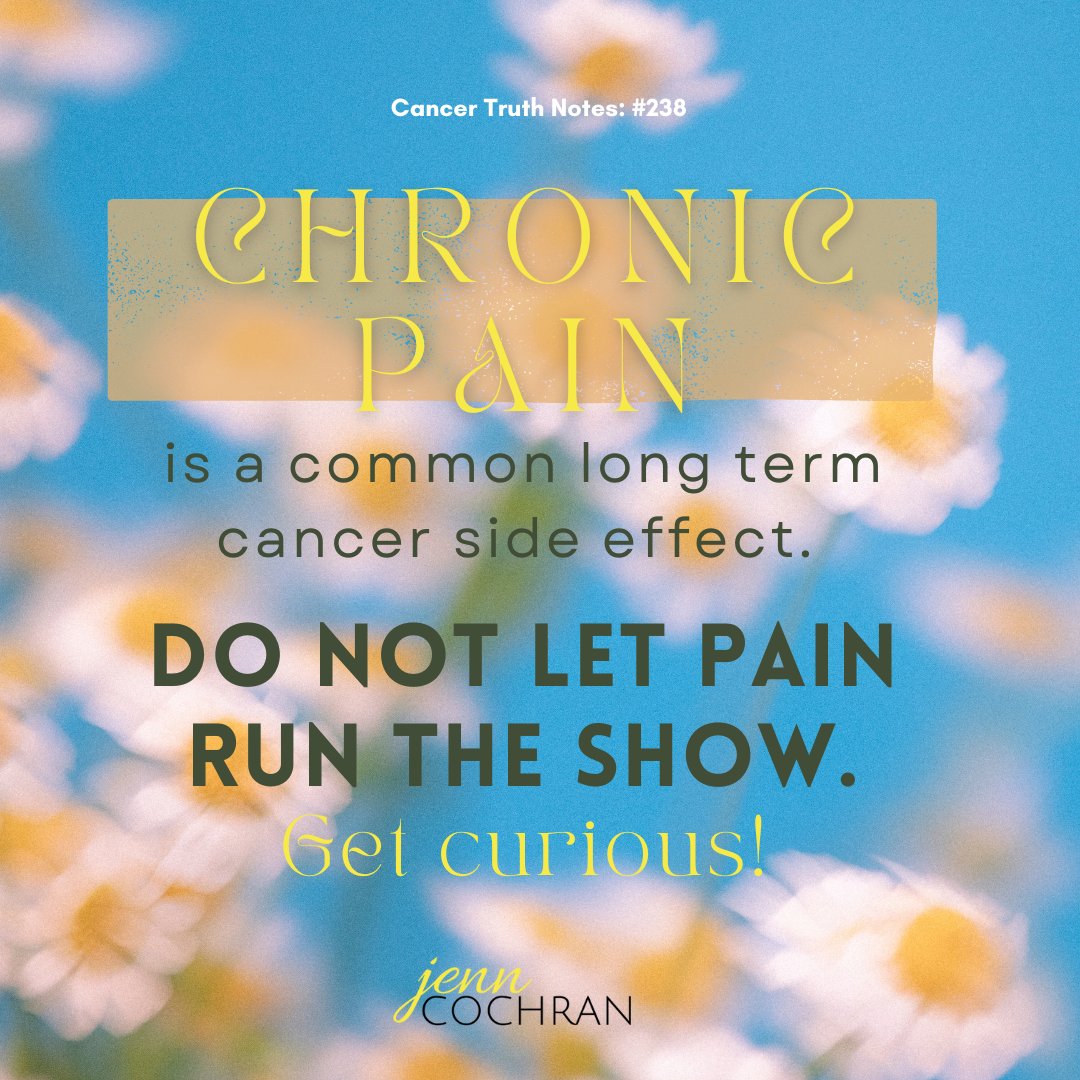 Chronic pain is a common long term cancer side effect. Do not let pain run the show. Get curious! 
Chronic pain is one of those things we need to get creative with. Medication without interventions at the source of the pain, will ultimately stop working. Additional surgeries may or may not alleviate the pain. It depends on the source. Let's talk possible sources: 
neuropathy

scar tissue

lymphedema

axillary cording in the arm or torso

nerve damage
These are just a few possibilities, the list goes on.
Following my bilateral mastectomy the feeling in my skin came back very quickly. Sometimes it does and sometimes it doesn't. While feeling in the skin is good, I ended up having chronic pain on my right side. This was the side with no cancer. It swelled more post surgery, and in the land of TMI, it still had a nipple. This was actually interesting because while it essentially had no feeling, it still detected hot and cold. I would frequently have burning sensations across the skin on the right side. It was worse before and sometimes during bad weather. About three years after my initial surgery my surgeon did an adjustment, where the nipple was removed and everything was tightened up on the right.. Following that surgery, my chronic pain was gone. Immediately gone. The scar tissue under the nipple was causing my chronic pain.
In that case surgery for the win.
When it comes to my cording and capsule contracture. Those have been managed through massage therapy and stretching. To the happiness of my surgeon, who at one point thought we may need to address it with another surgery. 
The bottom line is we have to get curious and creative, start small and work up to the bigger interventions.
Have you been experiencing chronic pain? Have you gotten answers that helped? Do you need help getting curious about actions you can take?
Continue the conversation in the facebook group Surviving is JUST the Beginning or follow me on Instagram.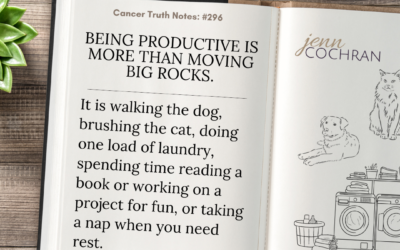 Cancer Truth Note: #296 Being productive is more than moving the big rocks. It is walking the dog, brushing the cat, doing one load of laundry, spending time reading a book or working on a project for fun, or taking a nap when you need rest. A cancer diagnosis often...
read more