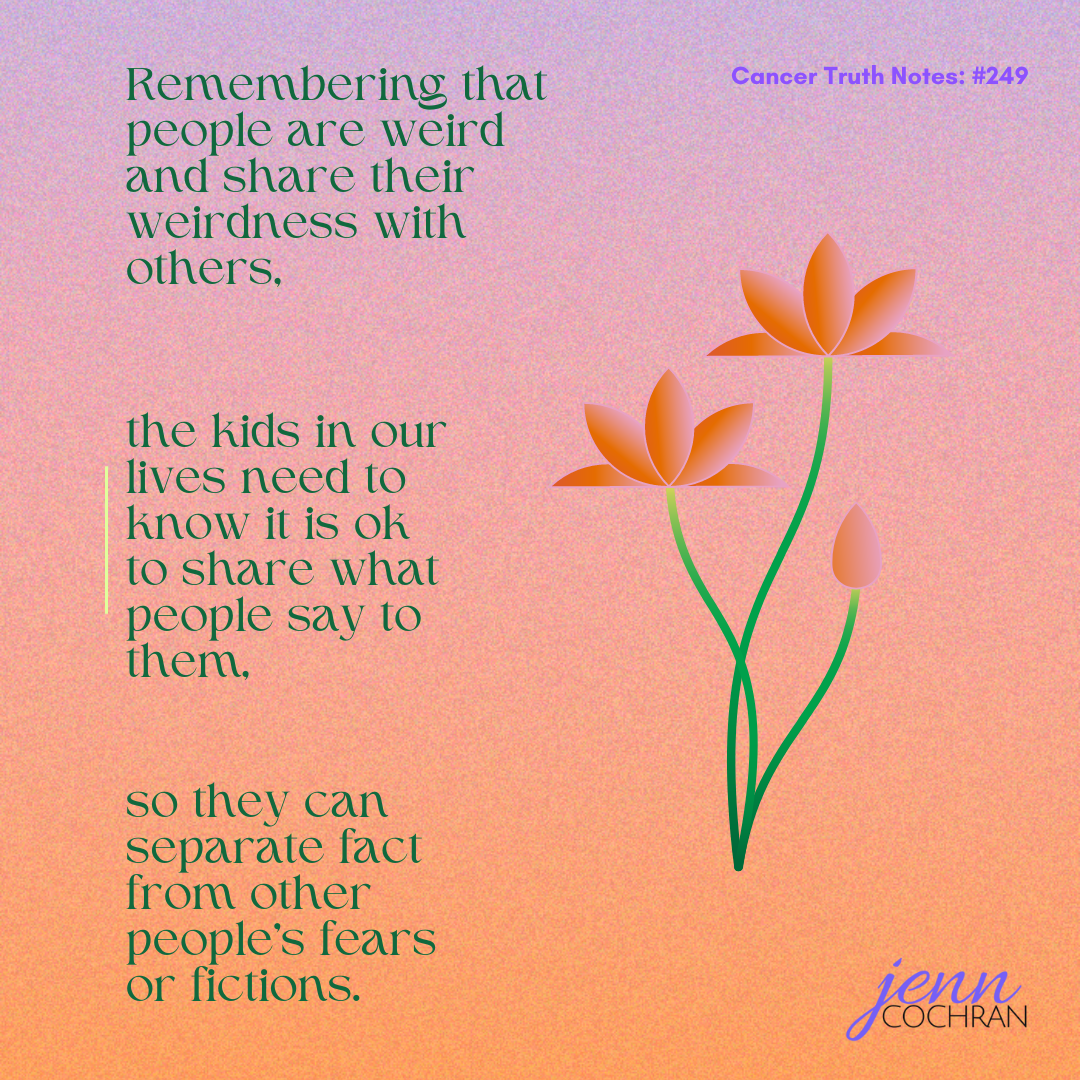 Remembering that people are weird and share their weirdness with others, the kids in our lives need to know it is ok to share what people say to them, so that they can separate fact from other people's fears or fictions.
When we talk about these things, it helps us to respond better in the future. It also helps us to be more curious and possibly less afraid. If I hear something that sounds ridiculous or too good to be true, I can be curious to learn more before accepting it as fact. Our kids may need some help learning how to navigate the ideas of others, especially if they are scary.
Kids form their own ideas based on circumstances as well. When my niece was four she lost her first dog to cancer. She didn't know at the time what had caused him to pass away. He had gone out to his favorite sunny spot, just minutes after my brother in law told him it was ok to leave them and he passed away in the sun. Two years later my grandmother passed away. My niece asked my mom if her mom spent too much time in the sun. It turned out that she thought the sun had caused the dog's passing. She never voiced the concern so no one could help her understand what had happened at the time. In her four year old mind there was a clear cause and effect relationship and it didn't need to be talked about at the time.
The same thing can happen when the door to have the conversation may not feel open. If kids think the question may be upsetting they may never ask. Letting them know that the door is open can help them feel more able to ask about hard things. 
Have you experienced this with a kid or another adult?

Continue the conversation in the facebook group Surviving is JUST the Beginning or follow me on Instagram.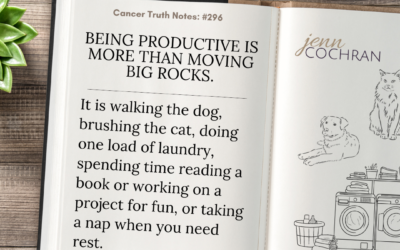 Cancer Truth Note: #296 Being productive is more than moving the big rocks. It is walking the dog, brushing the cat, doing one load of laundry, spending time reading a book or working on a project for fun, or taking a nap when you need rest. A cancer diagnosis often...
read more