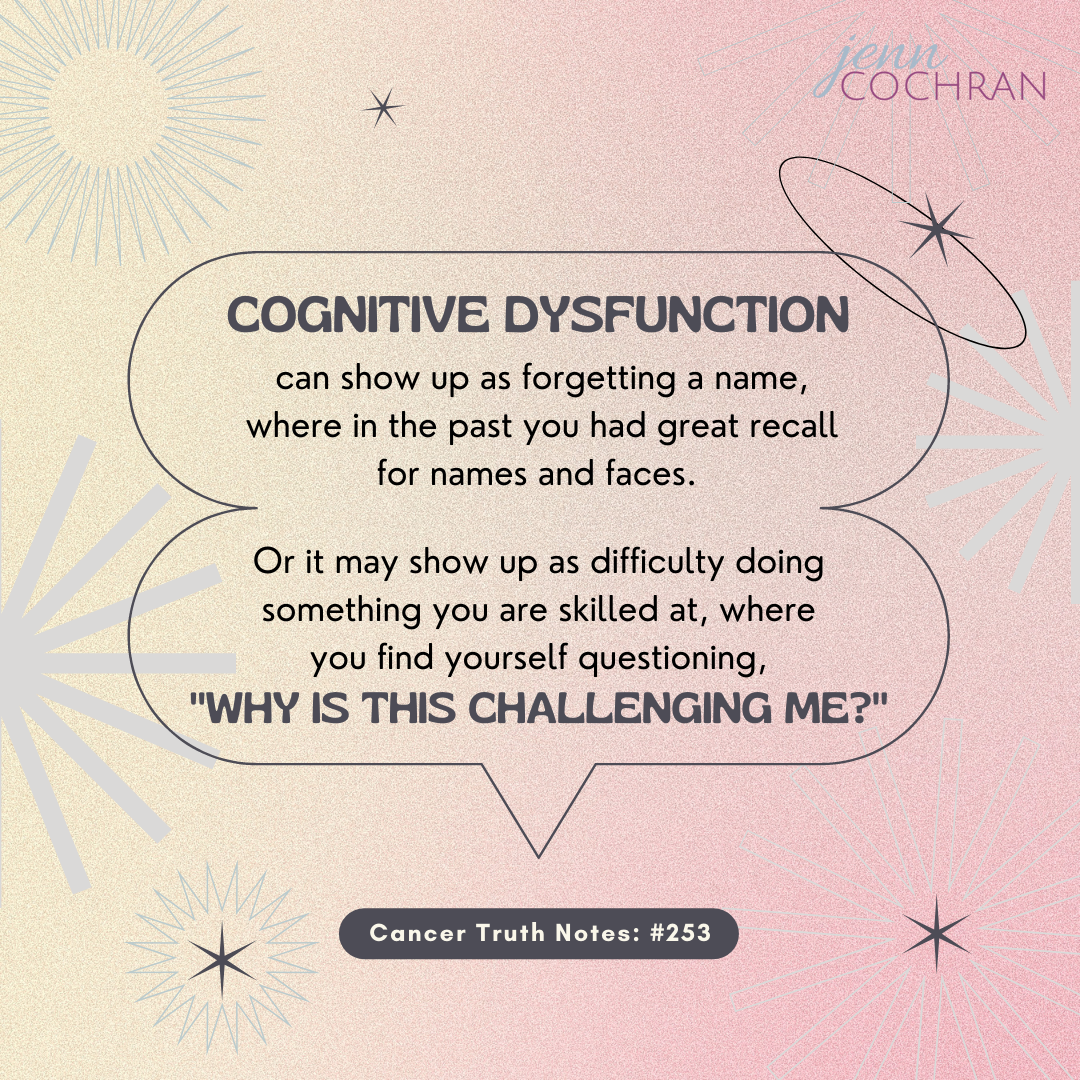 Cognitive dysfunction can show up as forgetting a name, where in the past you had great recall for names and faces. Or it may show up as difficulty doing something you are skilled at, where you find yourself questioning, "why is this challenging me?"
I used to be fantastic at remembering names and faces. Now not so much. Some nights I can watch Jeopardy and the answers just pop into my head other nights I'm like "It's the place with the thing in France." It is frustrating and for the most part it is manageable.
During chemo and for about a year after while I was taking hormone therapy, I struggled to knit. Now I am fairly adept at knitting. Knitting also is meditative for me. If I knit for an hour or so every evening my blood pressure is lower. For that year, that was not the case. I could not follow the simplest pattern. No wonder why we get depressed while dealing with cancer and the long term side effects. 
Brains are funny things. Before the pandemic, I belonged to a local networking group. I had been in the group for a while. At our last in person meeting before going to zoom I referred to another member by the wrong name. It was to a friend that was visiting and I caught myself right away and said that's wrong his name is… Weird I think I may have made that mistake before. Three months into the pandemic, I was out walking my dogs and it hit me, out of the blue, why I kept making that mistake. Eighteen years prior I had worked with his brother. I had never made the connection. But my chemo affected brain had the long term memory of the name of his brother. So when I was having trouble recalling names it was filling in familiar things.
I am not sure that I will get my name recall skills back to the level they were before cancer. However, I will say my ability to knit has returned. It's a trade off I guess.
Did you have a task or activity that you excelled at before treatment that took a hit? Has it improved or did you find ways to manage it?
Continue the conversation in the facebook group Surviving is JUST the Beginning or follow me on Instagram.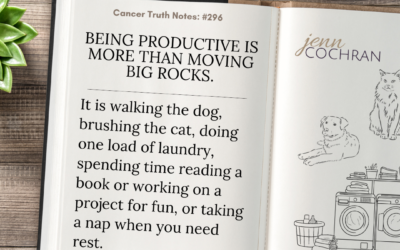 Cancer Truth Note: #296 Being productive is more than moving the big rocks. It is walking the dog, brushing the cat, doing one load of laundry, spending time reading a book or working on a project for fun, or taking a nap when you need rest. A cancer diagnosis often...
read more