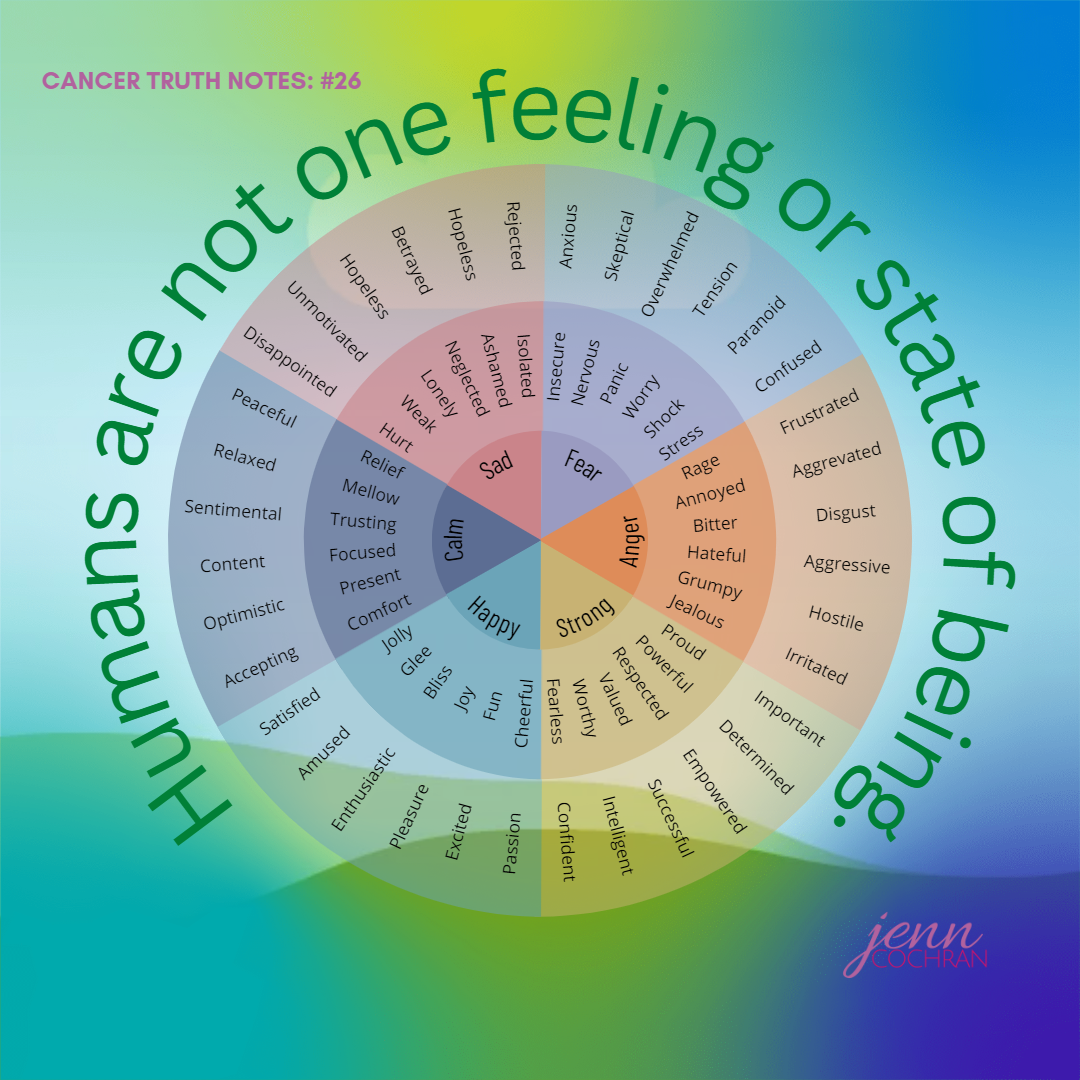 Humans are not one feeling or state of being. – Depression and anxiety can coexist in a human on a human day with happiness and curiosity.
 None of us are only made up of one feeling or state of being. I shared 5 areas of psychosocial challenge in Cancer Truth Note: #25 depression, anxiety, fear of recurrence, difficulty returning to work, and post-traumatic stress. I saw a comment the other day that a person would never believe someone's smile again, in reference to a famous person who struggled with depression. Smiles can be real, and depression or anxiety can also exist. Post cancer treatment and subsequently being home for long periods due to working from home and covid keeping people from gathering, I have experienced this more myself. Friends and new acquaintances comment that I am so friendly and chatty when they are with me. But what they don't see is what it may have taken that day for me to go do the thing. I can be anxious about going to a place I have never been before to the point that I have to acknowledge it to myself and do the thing anyway otherwise I might just cancel. Just because getting there was hard does not mean that I am not honestly happy and grateful to connect with people when I am with them. Those two things can coexist.  This is something I have heard from more people after being home during COVID-19. It is ok to feel all the feelings. If they are holding you back from doing things you want to do, it is time to ask for help. How can I help you today?
Continue the conversation in the facebook group Surviving is JUST the Beginning or follow me on Instagram.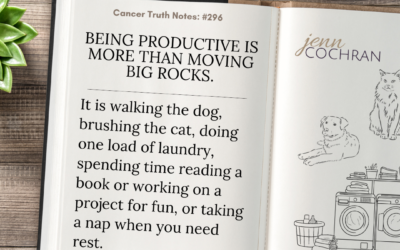 Cancer Truth Note: #296 Being productive is more than moving the big rocks. It is walking the dog, brushing the cat, doing one load of laundry, spending time reading a book or working on a project for fun, or taking a nap when you need rest. A cancer diagnosis often...
read more