In cancer survivorship we may be stronger in some areas than we were before cancer and we may be more challenged in others. How we embrace the challenges is what is most important.
Before my cancer diagnosis I ran a 10k race where I ran the fastest mile times I had run as an adult. After treatment ended and I started training for Dopey, I was 4 and a half minutes a mile slower. So basically the slowest I had been as an adult.
Here is the thing. I didn't let that stop me from pursuing a big goal of finishing Dopey. If you don't know what I am talking about, Dopey is a 4 day Disney race series. A 5k on Thursday, a 10k on Friday, half marathon on Saturday and a marathon on Sunday.
My goal in pursuing Dopey was not to be the fastest or even the fastest me. My goal was to finish this race series strong one year out of chemo. To show that no matter how big you want to dream or how audacious of a goal you want to set, you can do it if you do the work.
My memory for names and faces may never improve to what it once was. Now I just own it. "I am so sorry I know we have met, but my ability to remember names and their faces just never returned after chemo." People always understand and in most cases they may even empathize with a memory challenge of their own.
Challenges happen. How are you embracing your challenges? 
Continue the conversation in the facebook group Surviving is JUST the Beginning or follow me on Instagram.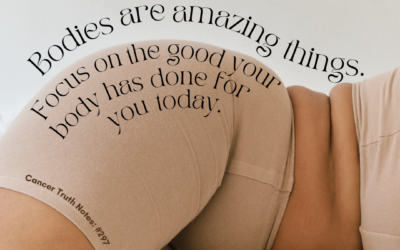 Cancer Truth Note: #297 Using negative words to describe your body brings you down. Bodies are amazing things. Focus on the good your body has done for you today. See how your mood and perspective shift. I often hear people use really harsh language when they talk...
read more