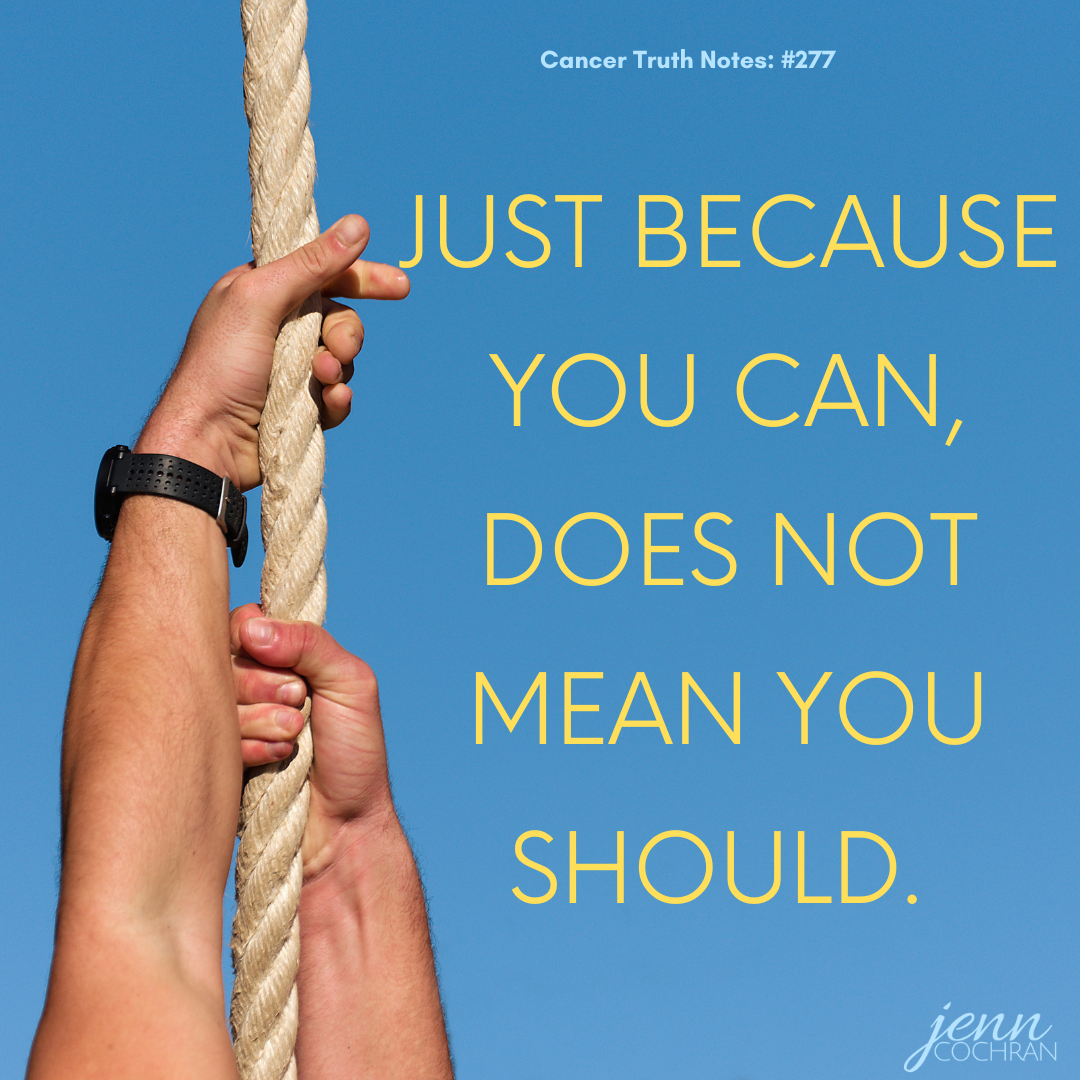 Just because you can, does not mean you should.
This has been coming up in the studio a lot! Here is the scenario. Client has been doing yoga for 25 years. Client has an injury that they can directly link to a yoga pose. Client wants to continue doing the pose because they have done it for 25 years. Why can't they keep doing it?
Setting aside that this injury was not insignificant and continuing to do this pose may have resulted in a more serious, more long lasting injury…. 
The first question I asked was why do you want to do the pose?
The response was because I have always been able to do it. Which is actually not a real reason.
Since I am a yoga teacher I explained the goal of the pose and offered several other stretches that achieved that goal, while being mindful of not further worsening the muscle injury.
Two weeks later, re-injured. Still doing the pose, not doing the options. Again, I asked why? and I asked again and again and again and as expected on the fifth asking we were down to the real underlying reason.
The reality was the attachment to being able to do it was the driving force behind continuing. If they could no longer do the pose they were losing something.
I asked if they had considered whether or not that pose was really for them?
We are offered so many fitness options that the offerer says is the best thing ever. Maybe it is and maybe it isn't. Maybe your friend tries pickleball and hates it, you try it and love it! Wrong for them, right for you. Maybe you go to a different yoga teacher's class and find out they are offering different poses that feel better in your body where it is right now. Bodies change, especially as we age or navigate illness. If you love it and it doesn't harm you go for it! If you hate it or it is not working for you or causing you injury, figure out why and adapt or try something new. There are many options. You get to do what works for you. Let go of what doesn't.
Can you relate? Maybe a routine that you always did that just isn't feeling right or a relationship that isn't meeting you where you are?
Ask yourself why 5 times to get to the real heart of the matter. Tell me what you learn.
Continue the conversation in the facebook group Surviving is JUST the Beginning or follow me on Instagram.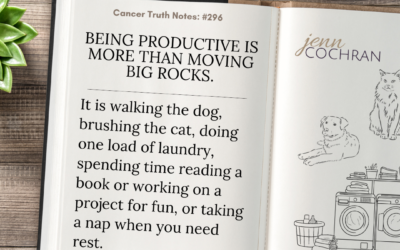 Cancer Truth Note: #296 Being productive is more than moving the big rocks. It is walking the dog, brushing the cat, doing one load of laundry, spending time reading a book or working on a project for fun, or taking a nap when you need rest. A cancer diagnosis often...
read more