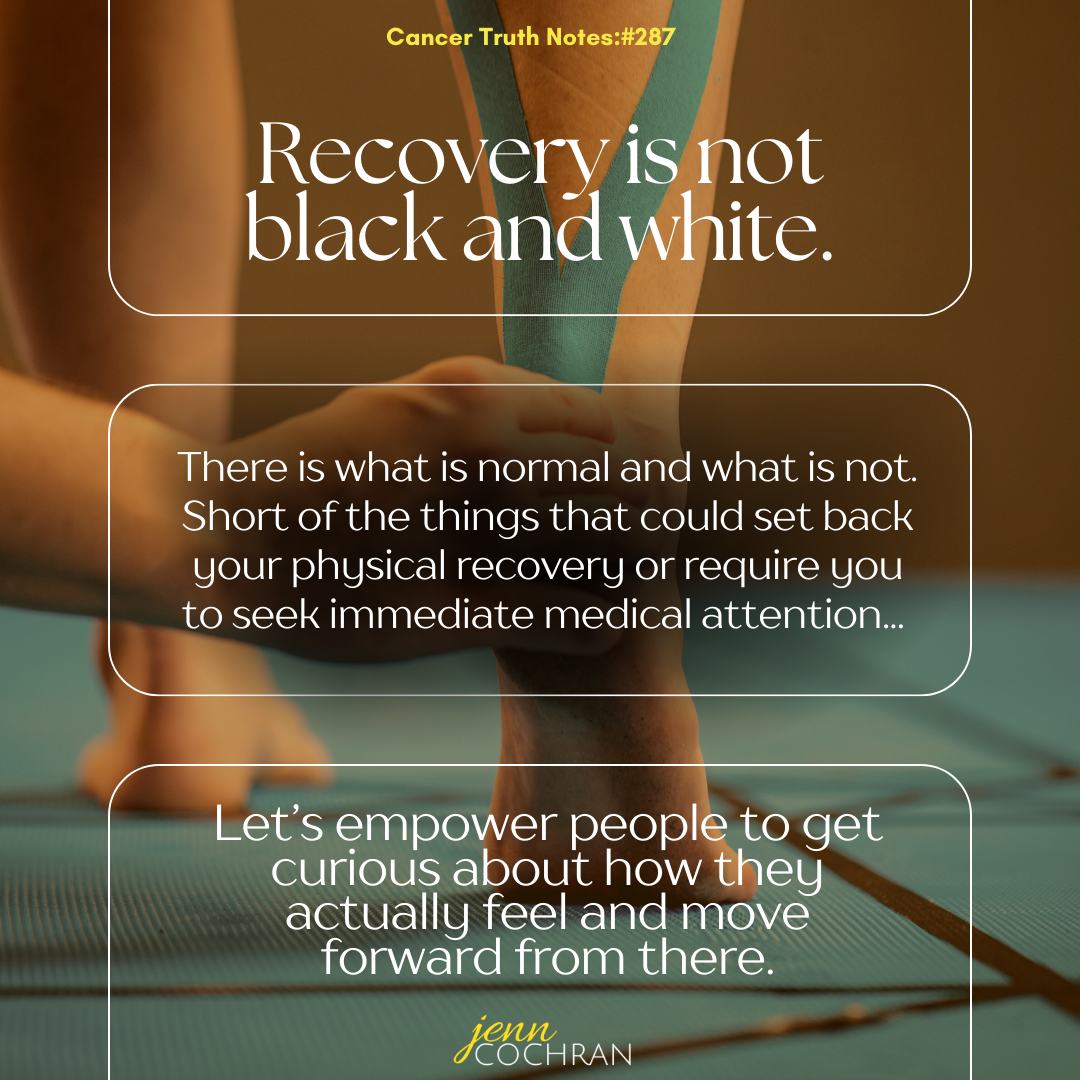 Recovery is not black and white. There is what is normal and what is not ok. Short of the things that could set back physical recovery or require us to seek immediate medical attention…  Let's empower people to get curious about how they actually feel and move forward from there.
I hear from clients all the time… The nurses say take it easy, baby yourself. Honestly, I feel like this is like the yoga cue "tail down"…. If I never hear it again ever, we will all be better for it.
That is not to say do not take it easy. That is to say, listen to your body. Then take actions accordingly.
I had lunch with an old client last week and we were talking about hysterectomies. After hers she was roaming around. She felt so good she went out for a walk after she got home. Her daughter thought she was nuts but the doctor told her moving around was ok as long as she felt ok. In her case her recovery was quick and she felt pretty good mostly all of the time. Now hysterectomies come with more restrictions and they are necessary.
It is totally valid to say, these are your restrictions for x amount of time. Then listen to your body. If you need more rest take it, if you feel good and want to go for a walk do that. The more options for getting moving slowly we can provide people the better the outcomes may be long term.
After mastectomy surgery my only restriction was not to pull my stitches. I needed to stretch and move my arms, I just needed to be aware of not over doing it. In fact my doctor wanted both my arms able to reach straight over head when I went in for my first post op 10-days after surgery. Babying my arms was not going to make that milestone a reality. Moving my arms throughout the day, every day, from the first day was the only way to get to that goal.
Have you experienced this where there may be confusion in the messaging or rest or move?
Continue the conversation in the facebook group Surviving is JUST the Beginning or follow me on Instagram.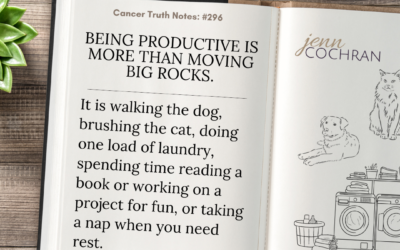 Cancer Truth Note: #296 Being productive is more than moving the big rocks. It is walking the dog, brushing the cat, doing one load of laundry, spending time reading a book or working on a project for fun, or taking a nap when you need rest. A cancer diagnosis often...
read more