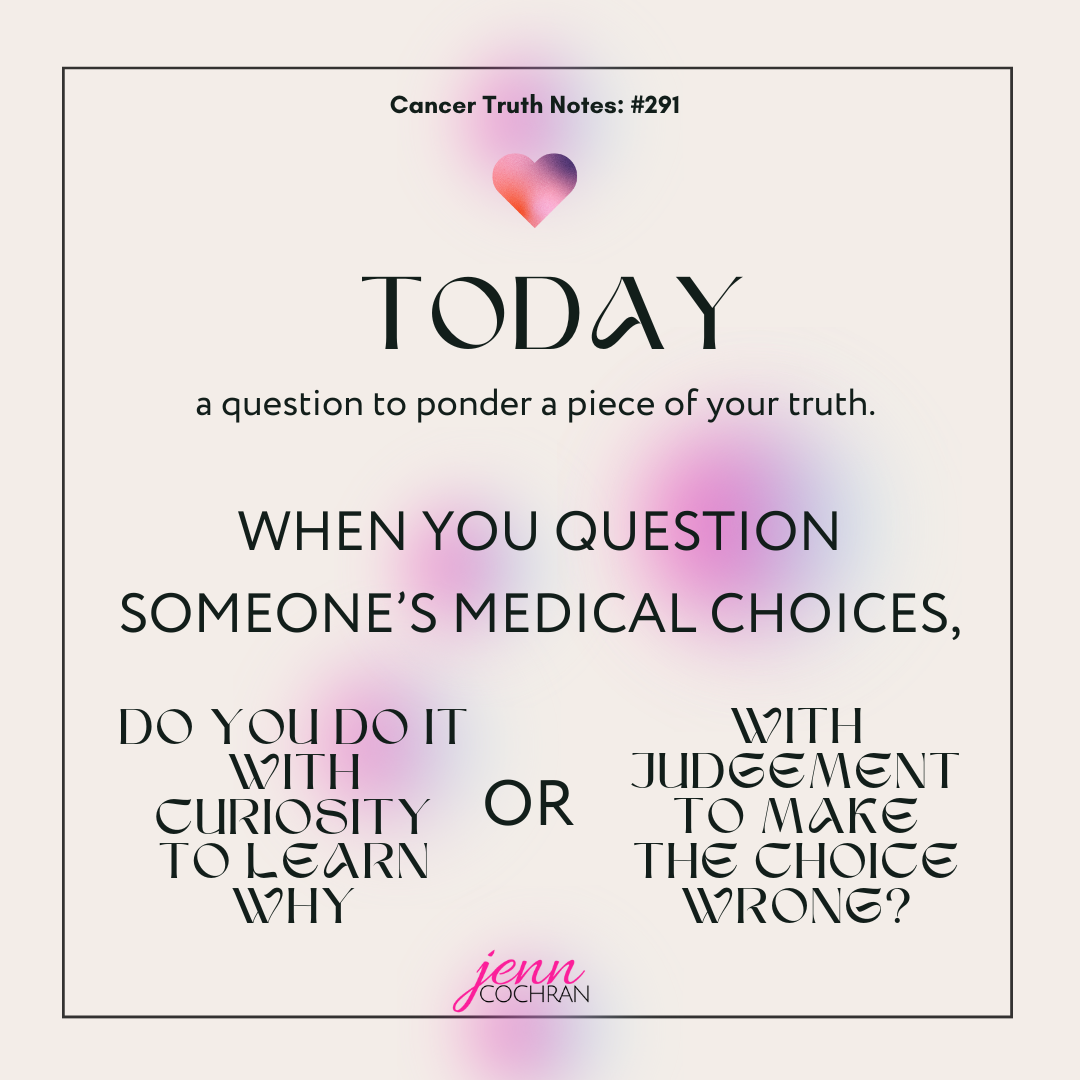 Today a question to ponder a piece of your truth. When you question someone's medical choices, do you do it with curiosity to learn why or with judgment to make the choice wrong?
We all have bias and experiences that color our thoughts and reactions. When you hear a friend has cancer and they are following western medicine or the opposite not following western medicine, do you find yourself judging their choices differently from how you make your own?
Are you able to ask curious questions to understand their why?
Disagreeing with someone's choice is not always judgmental, it can also be discerning.
A couple years ago I was at an event, not a cancer survivorship event. We were doing a little mastermind activity in the afternoon. A lady across the table from me shared that she chose non-traditional treatment for her triple negative breast cancer, because she doesn't believe in the pharmaceutical industry's motives for producing cancer drugs. She then said pharma has the cures for cancer. They are keeping it a secret, because it is unprofitable to cure cancer.
OK… that is a thought. I shared that my diagnosis while breast cancer was quite different from hers and in my case, I would tell anyone who is HER2+, like I was, to get Herceptin. The science and dramatic survivorship rate increases for HER2+ breast cancer patients is clear. The targeted medication works well and I think it saved my life and is likely to protect me from recurrence given the other steps I had taken. In my case it was pharma for the win.
The lady's response to me, "I think you are wrong, we don't need to be friends."
No curious questions, no pondering that there were different ways to approach the problem, no other options besides agreement with her were acceptable. I was ok with that, we didn't need to be friends.
Where do you fall on the question of today's truth, curious or judging?
Continue the conversation in the facebook group Surviving is JUST the Beginning or follow me on Instagram.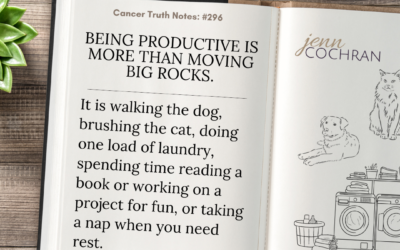 Cancer Truth Note: #296 Being productive is more than moving the big rocks. It is walking the dog, brushing the cat, doing one load of laundry, spending time reading a book or working on a project for fun, or taking a nap when you need rest. A cancer diagnosis often...
read more