A challenging day exercising is never bad, it is only information.
There is always the potential for an obstacle or a challenging day. The key to those experiences is to learn from them.
When I was starting to get moving post chemo, I took the dogs out for a walk in the afternoon. I felt great. We ended up walking 2 leisurely miles. The next morning Charles asked if I was sure about taking that task back. It had gone great the day before, no problem.
We headed out to walk, I made it a 10th of a mile. I was in a cold sweat and barely made it home. An hour later when I had finally pulled myself together and got on with my day. What the heck?
Later that afternoon, I tried again. Two miles, no problem. The next morning, disaster.
I didn't stop. I got curious and kept trying.  Mornings were rough for me for a couple of years. I learned and I adapted. What are you learning today?
Continue the conversation in the facebook group Surviving is JUST the Beginning or follow me on Instagram.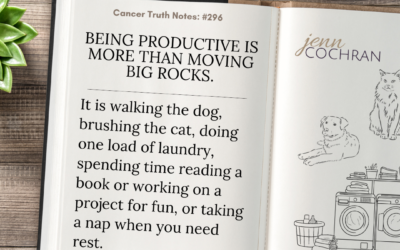 Cancer Truth Note: #296 Being productive is more than moving the big rocks. It is walking the dog, brushing the cat, doing one load of laundry, spending time reading a book or working on a project for fun, or taking a nap when you need rest. A cancer diagnosis often...
read more