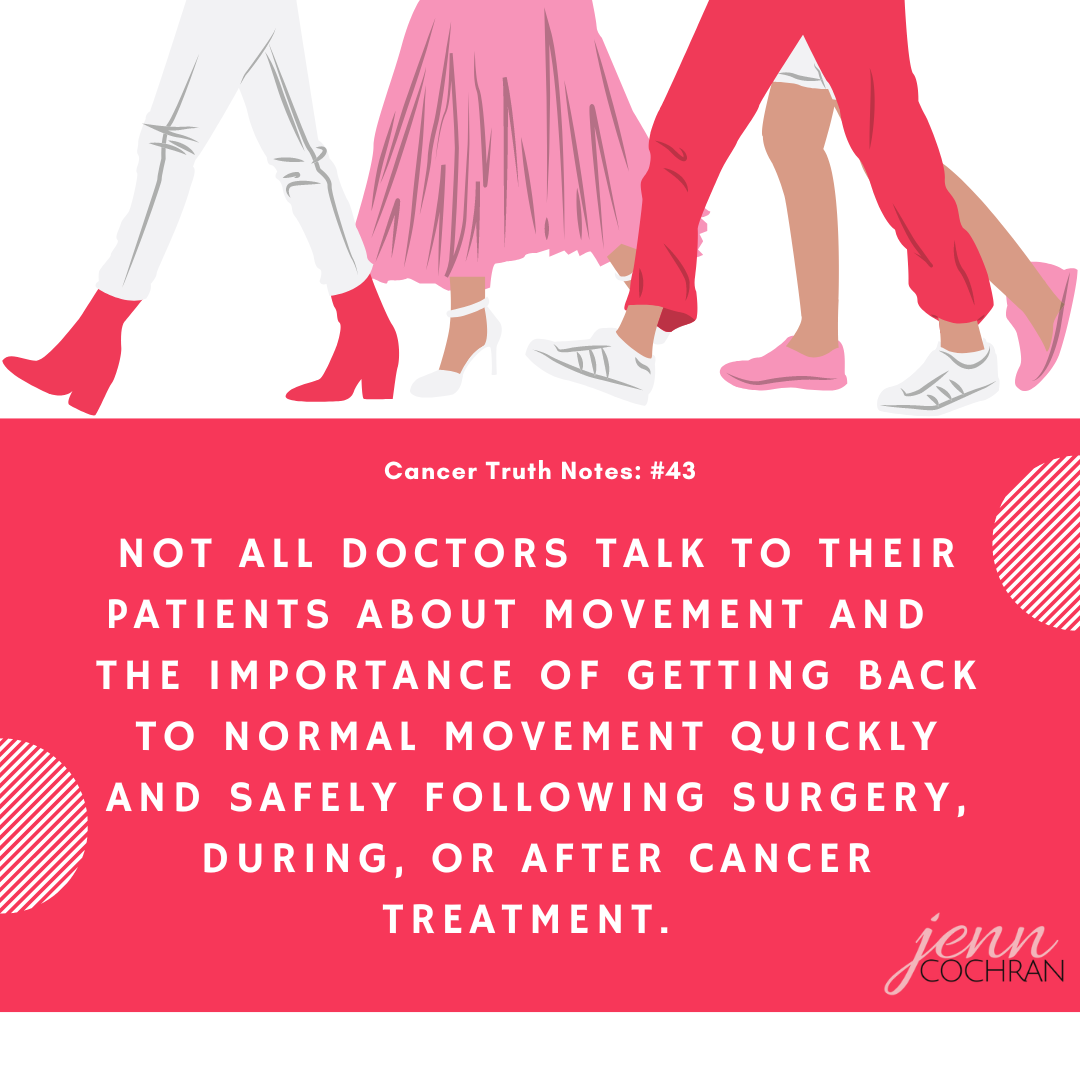 Not all doctors talk to their patients about movement and the importance of getting back to normal movement quickly and safely following surgery, during, or after cancer treatment.
This was part of my discussions because my work made it a priority for me. I commonly hear from clients that no one told them to start moving right away and often the messages we get during treatment are rest, don't over do, take care of yourself. While I 100% agree with all of those, exercise, if you are able, is a form of taking care of yourself.
Exercise is also a broad statement without much guidance behind it. So it is important if you are rehabbing post surgery to understand the specific expectations. My doc set a very clear goal for me to reach post mastectomy. I was expected to stand next to a wall with my arm straight over my head when I saw my doc 10 days post surgery. A clear goal that I was able to work toward every day.
When I had a knee joint puncture from a car accident my doc said do 100 leg lifts a day from a seated position and bend your knee. I could not lift my foot more than 2 inches off the ground or bend my knee one degree. I got to work. Two weeks later I could actually do the 100 leg lifts without lifting my leg with my arms and trying to control how fast it fell and my knee was bent to 90 degrees. I was thrilled. My doc yelled at me. He wanted the knee bent to 120 degrees. His direction was not specific enough. Three weeks later I had reached the expected goal and was released from follow ups. Being specific matters.
Where do you have questions about getting moving?
Continue the conversation in the facebook group Surviving is JUST the Beginning or follow me on Instagram.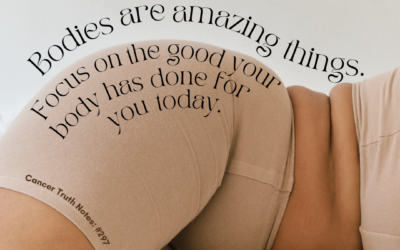 Cancer Truth Note: #297 Using negative words to describe your body brings you down. Bodies are amazing things. Focus on the good your body has done for you today. See how your mood and perspective shift. I often hear people use really harsh language when they talk...
read more