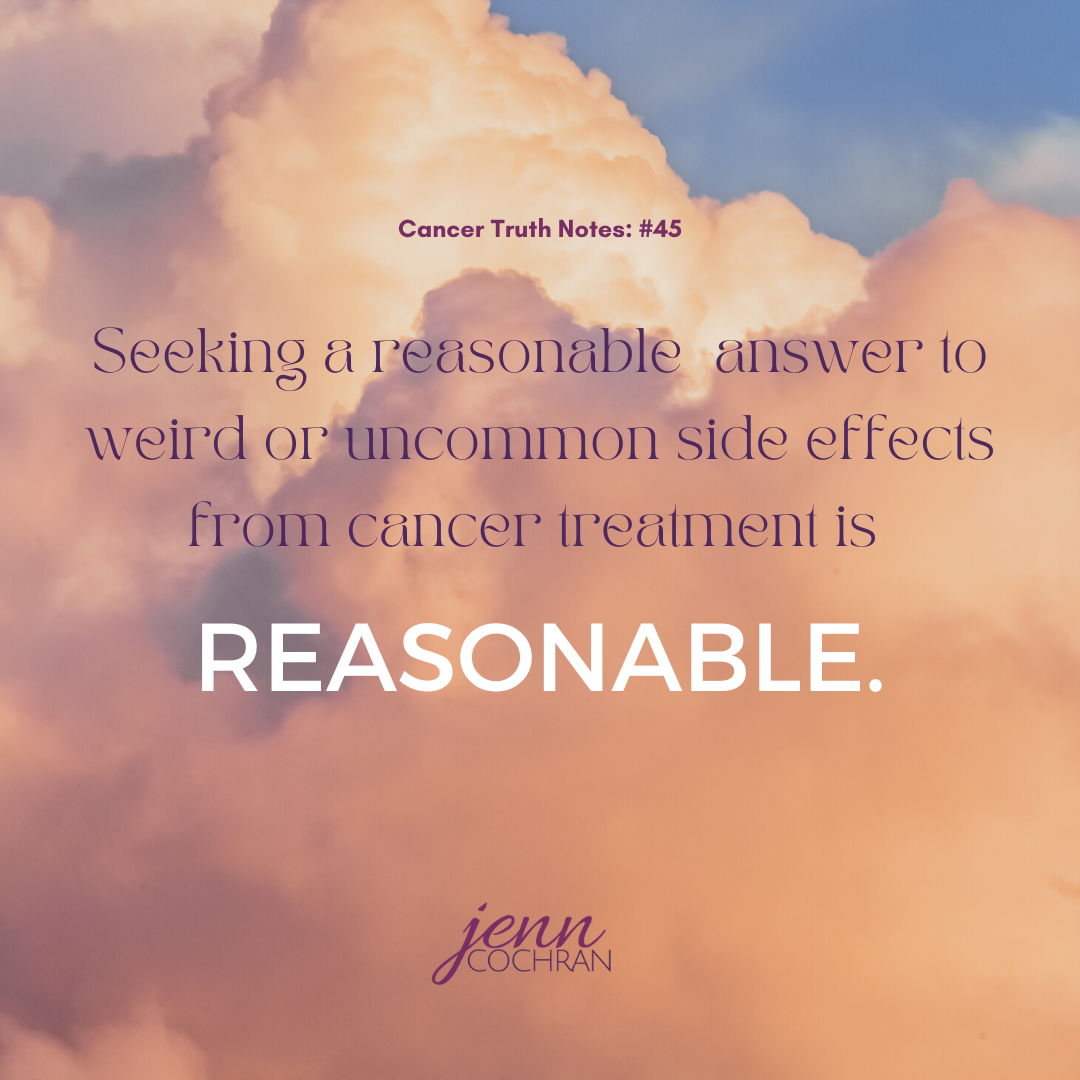 Seeking a reasonable answer to weird or uncommon side effects from cancer treatment is REASONABLE.
Looking back, I had 3 major side effect challenges that might have been handled better.
I got thrush three days following treatment. This happened for a year. Friday treatment, Monday sore throat. For 9 months of treatments, I had to see a doc to get treated. The side effects were not common and questioned every time.
Shortly after that first chemo treatment my nose started running and it hurt to touch. When I mentioned it to the nurse she said "that happens, everything dries out". Ummm, my nose is running uncontrollably, it's not dried out. Another HER2+ BC patient said to me "oh you have the Herceptin drip. They say it isn't a thing, but it is. I have it too." Fast forward 9 months, I saw an Ear Nose and Throat (ENT) doc. She took one look in my nose and very matter of factly said, "oh you have a staph infection." Oh, is that all! She tested it to be sure and after 30 days of antibiotics I was better. It turns out this is something I may now deal with periodically forever. Yippee.
Finally, I am celiac and there is gluten in everything, especially medications. Turns out that most AIs and Tamoxifen have gluten in them. There are limited gluten free options. So, when I filled up with fluid and gained 10 pounds in a month in between running two half marathons and eating carrots and kale for lunch every day I was seeking answers from anyone who would listen. I didn't get very far. One morning I woke up with the realization that it was gluten. It had not occurred to me that I would be prescribed something I was knowingly allergic to. After a conversation with my pharmacist, she felt certain it was gluten. It took my doctor's office 12 weeks to get a confirmation from the drug company. It is simply not cost effective to make a gluten free version. The first warning on the leaflet is don't take it if you are allergic. Finally, I had an answer and so did some others who were experiencing issues that could not be explained.
Continue the conversation in the facebook group Surviving is JUST the Beginning or follow me on Instagram.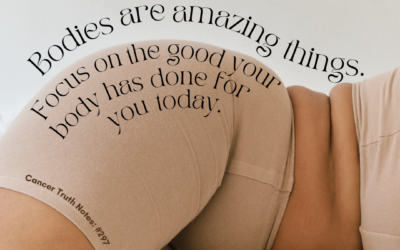 Cancer Truth Note: #297 Using negative words to describe your body brings you down. Bodies are amazing things. Focus on the good your body has done for you today. See how your mood and perspective shift. I often hear people use really harsh language when they talk...
read more