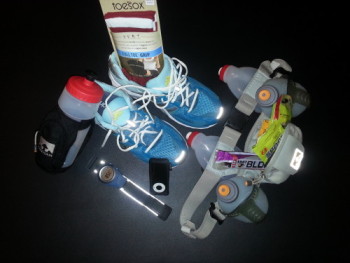 When we left our story last week, you were finding an event to register for and possibly teaming up with a buddy. Now that we have our event and our training plan we need the right gear! Today I'm talking about three categories of gear to get you started:
Shoes and socks
Clothing
Water bottles and accessories
Isn't it great how I can bring everything around to shoes! Our feet are our foundation for many activities, so we will start with your foundation, the feet.
The proper fitting footwear makes all the difference. If you have never been fitted for walking or running shoes I cannot recommend it strongly enough. Alternatively if you were fitted years ago and have fallen off the wagon or incorporated a Pilates program into your workout, it may make sense to get fitted again. As bipeds we have many imbalances brought on by injuries, movement patterns, and the way gravity has acted upon us. And it can change over time, sometimes for the better and sometimes not. When fitted in the proper style shoe for my body my knees only start to bug me when it is time for new shoes, which basically means my body is absorbing more stress as the shoe breaks down from use.
When fitted properly in the right shoe for your activity you should be free of discomfort. Socks are also important! Try some different styles, weights, and fabrics to see what works best for you. I have different favorites for different activities: Adidas climalite® light weight for running, smart wool for hiking, heavier weight wicking fabrics for dog walking, and Bella Toe Sox with gripping bottoms for my Pilates and Yoga practice.
Once you have your foundation set it is time to move on to your clothing. Depending upon your sport your selections may vary. Be mindful of the season, a basic rule of thumb for running is to dress for 20 degrees warmer than the air temperature. Wicking fabrics are great for most active sports regardless of the seasons. This is definitely an area to invest in. Quality clothing that doesn't rub and moves moisture away from your skin to keep you cool or warm depending upon the season is well worth its cost. Make sure the fit is good, if it is not perfect consider passing it up. Spending $100 on a cold weather jacket that fits and does its job well gets worn often and becomes a most valuable player in your wardrobe. The extra-large sale jacket that flops around or just doesn't quite work but cost half as much, may actually be worth less than that if it does not get worn because it is just not right. So go for fit, comfort and function, with those three things in mind you cannot go wrong.
Our third gear up item is your water bottle, this is a must have item. Whether you are walking in the heat or out for a run anytime or working up a sweat in class having access to water is rarely ever a bad thing. There are lots of great options; hand held water bottle holders, water bottle belts, and camel pack backpacks are among the most popular. Most group training programs require them and if you have read some of my earlier posts you will see I'm a huge proponent of hydrating and refueling while out and about in any weather. This is not a post about fuel, so all I will say is experiment with some of the exercise fuel out there. There are many organic or largely organic options that contain the electrolytes that we lose during exercise.  Another accessory to consider is your tunes. I have a nano with a 4 hour running mix of tunes that keeps me moving.
Speaking about moving that is the topic of our story for next week, Getting Moving. So check in next week and in the meantime let me know what gear gets you moving!