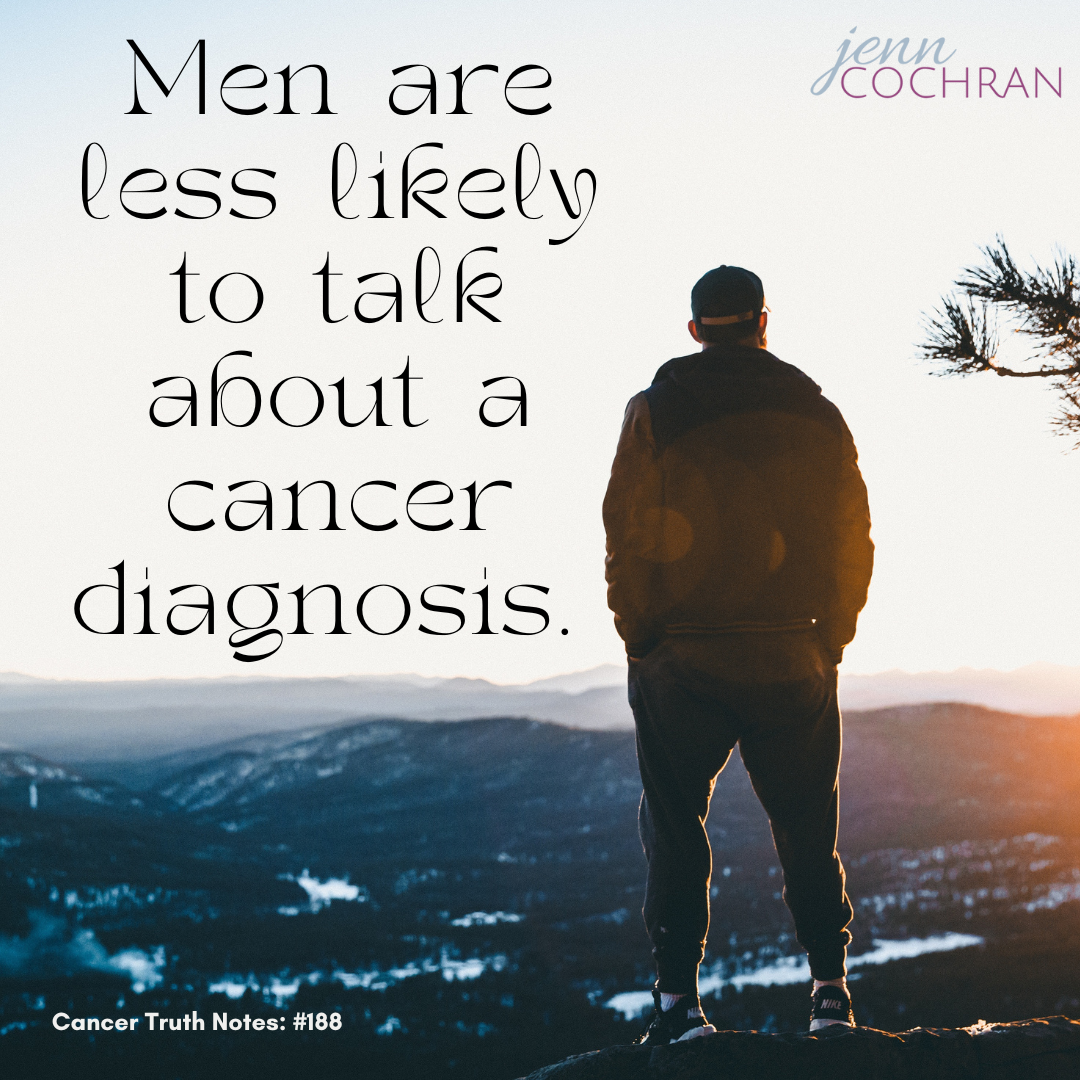 Men are less likely to talk about a cancer diagnosis.
Dane David was the first man I interviewed for my podcast. Several women had talked about their husbands' stories, but I had not interviewed a man.
A few months after Dane and I talked, I met Trevor Maxwell. Trevor is a stage four colon cancer survivor. He discovered when he went to support groups there were a lot of women and few men. He also noticed that when women forced their husbands to come to groups they found it helpful. As a result of his experience he founded Man Up to Cancer (https://www.manuptocancer.com/). Their message to men facing cancer: You are not alone. He has created a vibrant community of men navigating cancer and survivorship. 
Trevor shared his story with me in episode 32 of Unspoken Cancer Truths. (https://fitnessdesignsolutions.com/uct-ep-32-manning-up-to-cancer-with-trevor-maxwell/)
Trevor and I recorded our conversation the day before the news of Chadwick Boseman's passing was announced. While I understand privacy, especially in the public eye, I remember the conversations that took place around the shocking announcement. Many people commented that they hoped it would not encourage more people to stay silent about their struggles, but let men know that it is ok to talk about what they are dealing with and find ways to start that conversation.
Trevor has definitely embraced the conversation and he recently published a book: Open Heart, Warrior Spirit: A man's guide to living with cancer (https://www.amazon.com/dp/B0BN21JNBQ?ref_=cm_sw_r_cp_ud_dp_JKZRDN4GH3WTNS11GT6R).
If you have a man in your life facing cancer send him to Man up to Cancer's website where he can connect with other men facing similar challenges.
Do you know a man who has faced cancer? Did they talk about what was going on?
Continue the conversation in the facebook group Surviving is JUST the Beginning or follow me on Instagram.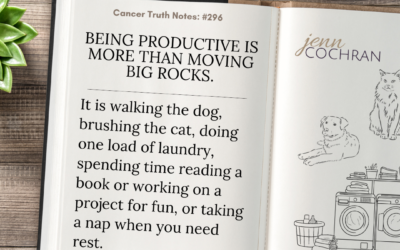 Cancer Truth Note: #296 Being productive is more than moving the big rocks. It is walking the dog, brushing the cat, doing one load of laundry, spending time reading a book or working on a project for fun, or taking a nap when you need rest. A cancer diagnosis often...
read more