CCn with Jenn Cochran:
Episode 17 Charlotte Schaff
her husband are Arizona Cardinals season ticket holders and devotees of weekly date nights. Charlotte is heavily involved in her children's school PTO and serves on a nonprofit board which focuses on bringing #LoveUp moments to foster children.
In 2018, with the gentle nagging of her husband, she got the mammogram she'd been putting off. Soon after a whirlwind of shock and going public with her experience, she did an "Angelina Jolie" and had a bilateral mastectomy, reconstruction and then a hysterectomy. She was Stage 2A. She now works through the fatigue and aches and challenges of being a survivor by taking life a little easier but also by sharing her ups and downs with others through social media. Her hope is to inspire others by being positive and open about what happens after breast cancer.
Want to appear as a guest?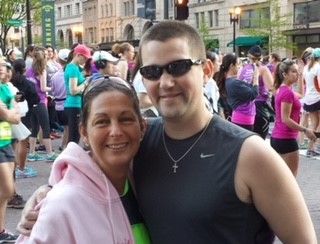 Episode 55: My Journey as a Mom of an ALL Survivor w/ Sharon Bryant Baumgarten Sharon Bryant Baumgarten will never forget the exact moment she received the life-changing news that her 9 year old son, David, had leukemia. The whirlwind diagnosis took their family on a...
read more