Episode 64: It's Never Too Late for Love with Larry Indiviglia
No matter where you are in your life, it's never too late to find unconditional love. In this episode, author, speaker, and colorectal cancer survivor Larry Indiviglia is joining me to share his inspiring love story with his late girlfriend Gayle, which he captured in his book "126 Days, 11 Minutes: Our Love Story." Together through Gayle's battle with stage IV cancer, their two stories intertwined into a journey of finding love despite adversity, and living life on their own terms beyond the shadow of cancer. 
We're exploring:
What it meant for Larry and Gayle to take a chance on dating in their 60s

How you can use guidance from alternative medicine practitioners in combination with Western medicine 

Larry's 2 MOST memorable moments with Gayle from his book

The #1 thing to remember as a health advocate

How they found comfort, support, and peace through hospice care

And so much more!
CONNECT WITH LARRY:
Book mentioned on the show: "126 Days, 11 Minutes: Our Love Story" by Larry Indiviglia
 MEET LARRY:
Larry Indiviglia wrote 126 Days, 11 Minutes: Our Love Story to honor the life of Gayle and their love for each other. Although brief, Larry considers his relationship with Gayle as one of the most profound experiences of his life.  He also hopes 126 Days, 11 Minutes inspires others to say "yes" to love even when logic says, "no."  Larry believes there are many beautiful souls who are looking to discover and experience unconditional love.  His book shows it is possible.
Larry is a retired naval reserve officer and a graduate of the United States Naval Academy at Annapolis.  He holds a MA in Corporate Fitness Administration and an MBA from the University of San Diego.  Currently, Larry is President of INDsightsForLife, Inc., a fitness professional, presenter, and author as well as a business and life coach for the Todd Durkin Mastermind Program. 
Larry has authored articles in Coronado Lifestyles Magazine, Shipmate, The Coronado Eagle, The Gratitude Book, and Balanced Body, Balanced Life.  Additionally, he was extensively quoted in Runner's World and The New York Times   His work over a 30-year fitness career has inspired motivated and encouraged people to grow and do their best.  His powerful ability to connect with people helps them transform their lives and businesses.  His goal for 126 Days, 11 Minutes is to help you transform your relationships by learning to love unconditionally. 
Larry lives and works in San Diego, has two children: Joe and Lauren, and one grandson, Luca.  Larry's first book INDsights for Life: Rising Up – Reaching Higher – Together, is an inspirational guide containing daily messages of hope, belief, caring, and love.  It is available on Kindle and Audible.
Want to appear as a guest?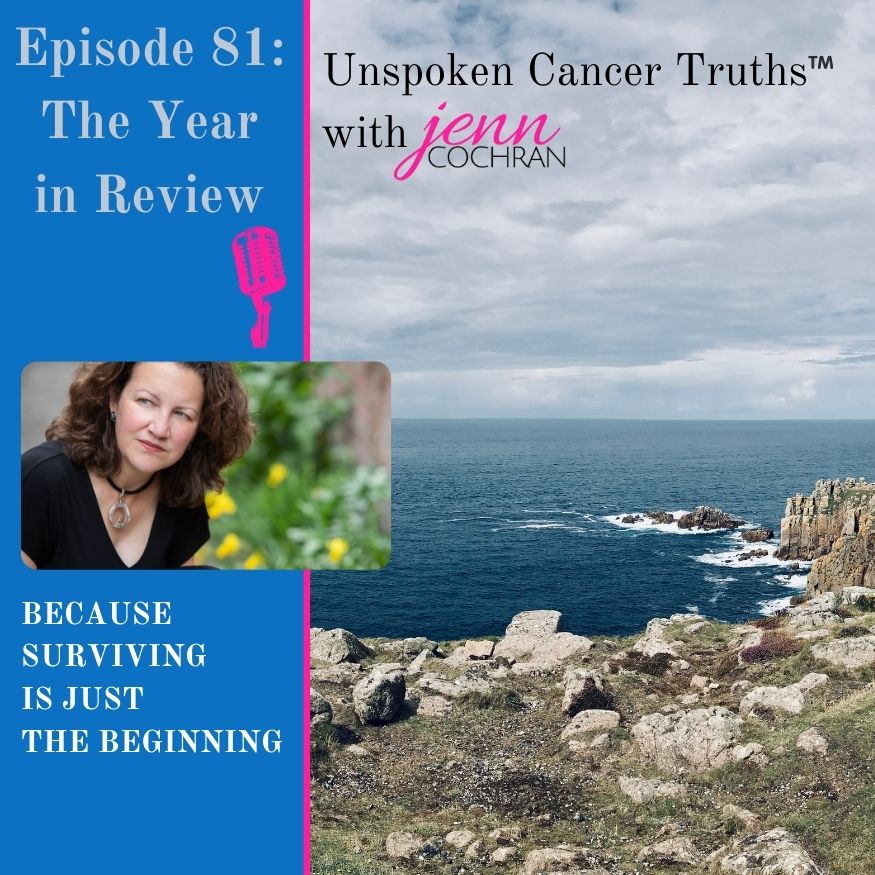 Episode 81: Unspoken Cancer Truths: The Year in Review I can't believe we are at the end of 2021! It has been another amazing year of Unspoken Cancer Truths™, and I'm so glad you've joined me along the way. In this episode, I'm recapping a snippet of each episode,...
read more