Episode 53:
Paula Shepherd Gets Real w/ Her BRCA+ Journey
Sometimes you don't have to actually have HAD cancer to really understand some unspoken cancer truths, like what it's like to be thrown into menopause at a young age or what that first look at yourself post-mastectomy and reconstruction surgery feels like. This week's guest, Paula Shepherd, a mom of 4 and business confidence & leadership coach, shares with us her own journey and experience of discovering that she was BRCA2+ in her 30s, what that meant for her, and her choice to undergo a prophylactic bilateral mastectomy and partial hysterectomy by age 37. 
We're diving into:
Paula's experience of being told by her doctor at 25 years old that it wasn't a matter of IF she got breast cancer, but WHEN, and what led her and her mother to get tested for the BRCA gene mutation years later

Her journey through the decision the have a prophylactic partial hysterectomy after years of infertility struggles

The feelings of shame and loneliness Paula felt during her surgical treatment and recovery because she wasn't going through cancer like the other women around her

All the things no one tells you about after breast reconstruction surgery (like sleep difficulties and dealing with postsurgical drains with your partner!)

How being plunged into menopause shortly after giving birth brought mental health challenges no one prepared her for

The silver lining from Paula's own choices about how to manage her BRCA+ diagnosis that also helped her mom during a breast cancer recurrence

And so much more!
Follow Paula on Instagram
Continue the conversation in my free private Facebook group, Surviving is JUST the Beginning
Join me for a Coffee Chat here 
Follow me on Instagram and connect for updates about the podcast 
Want to appear as a guest?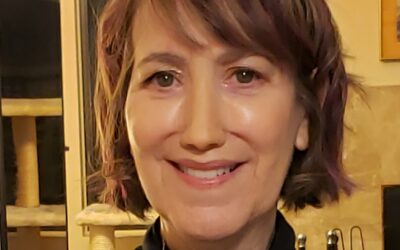 Episode 54: Barbara Caplan-Bennett on Losing Her Nose to Save Her Life The physical manifestations of cancer are unique to every journey, and some are more outwardly obvious than others. Our guest this week, Barbara Caplan-Bennett — a published author of several...
read more