Episode 38: Chemo Brain – Managing Cognitive Challenges After Cancer (October Survivorship Panel – Part 3)
You know that thing in the kitchen? That's cold? And you put food in it? Oh yeah…the refrigerator! If you've found words like this escaping you as you journey through survivorship, you're going to love this episode. Today I'm joined again by my panel of 4 amazing breast cancer survivors to continue the conversation about what survivorship REALLY looks like and we're diving into another thing we found no one warned us about (or even often took seriously!): brain fog, chemo brain or memory challenges. Let's dive in!
We're diving into:
What we expected in our return to life after cancer treatment, and the things we DIDN'T expect

When I realized I had chemo brain (and why it took me 1 ½ years to recognize it!)

Worsening or new diagnoses of ADHD after cancer treatment

The biggest surprises in cognitive function after treatment and how we managed them

Our advice for you if you're also struggling with these issues

And so much more!
Meet the panel:
Charlotte Schaff was diagnosed in 2018 at the age of 47 with stage 2A breast cancer. Check out more about her story in Episode 17

Gemma Emmett is a two-time breast cancer survivor diagnosed in 2013 at the age of 29 with stage 3B breast cancer and had a recurrence in 2017. Check out more about her story in Episode 8
Robyn McTague was diagnosed with DCIS in 2000 at the age of 44. Check out more about her story in Episode 14
Tanja Thompson is also a two-time breast cancer survivor who was diagnosed with bilateral breast cancer in 2004 and had a recurrence in 2009. Check out more about her story in Episode 22 
Want to appear as a guest?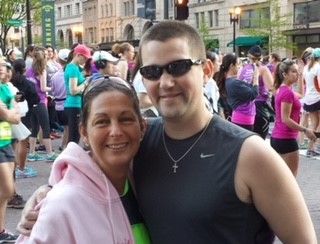 Episode 55: My Journey as a Mom of an ALL Survivor w/ Sharon Bryant Baumgarten Sharon Bryant Baumgarten will never forget the exact moment she received the life-changing news that her 9 year old son, David, had leukemia. The whirlwind diagnosis took their family on a...
read more