Today I'm joined by Katie Pittsinger as she shares with us her breast cancer story which began with a routine mammogram — at age 35 and just months after the birth of her second child — recommended earlier than average by her doctor, even though her only family history was a grandmother diagnosed at 90. We're diving into her journey with her "tiny tumor" — an invasive lobular carcinoma — as well as mastectomies, vulnerability, and the lessons she has learned along the way.
In today's episode, we're exploring:
– How Katie very quickly found clarity around her decision to have a bilateral mastectomy
– The changing sense of control, openness, and vulnerability she experienced during her cancer journey
– Some expected and unexpected side effects of her treatment and how she got through them
– The importance of community, connection, and support during and after diagnosis and treatment, because they don't give you a manual for surviving!
– Katie's history of trauma and PTSD, and how they were affected on her cancer journey
Katie is a mom, daughter, wife, friend and clinical social worker. Katie works at a behavioral health clinic and owns her own private practice. She was diagnosed with breast cancer at the age of 35. Katie was diagnosed with Stage 1A Invasive Lobular Carcinoma, Ductal Carcinoma In Situ and Lobular Carcinoma In Situ. Katie underwent a Bilateral mastectomy, implant exchange and fat grafting along with endocrine therapy. Katie was diagnosed with breast cancer three months following the birth of her son and relied heavily on her family and friends for support. Her cancer diagnosis enabled Katie to take perspective on her life, walk in gratitude and appreciate the small graces in life.
Continue the conversation in my free private Facebook group, Surviving is JUST the Beginning: https://www.facebook.com/groups/SurvivingisJUSTtheBeginning/
Want to appear as a guest?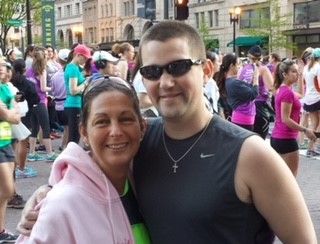 Episode 55: My Journey as a Mom of an ALL Survivor w/ Sharon Bryant Baumgarten Sharon Bryant Baumgarten will never forget the exact moment she received the life-changing news that her 9 year old son, David, had leukemia. The whirlwind diagnosis took their family on a...
read more