CCn with Jenn Cochran:
Episode 11 Sue Reier
My guest this week is Susan Reier. She is a veteran turned civilian who spent the bulk of her career in government service. She is an avid volunteer in her church and local elementary school, she is a crafter, quilter, and knitter. She is also a 14-year triple negative breast cancer survivor.
Want to appear as a guest?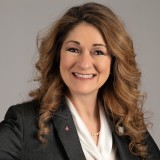 Episode 25 Linda Graziano Since the age of 8, starting with noticing a lump on her little sister's neck while playing, Linda Graziano has experienced various types of cancer within her immediate family including her parents and 4 of her 6 siblings. Today, she is in...
read more