Episode 43: Pickleball for All with Helen M. White (Fitness in Survivorship, Part 1 of 5)
If you've felt that disconnect when getting moving again after your cancer treatment — your heart wants you to be where you were before, your head has reservations about getting started, but your body is like, "Hey! Kinda been through some stuff over here!" — and feeling frustrated that exercise doesn't look like you thought it would, then you're going to love this month's series on fitness in survivorship. Over the next 5 weeks I'm going to introduce you to some great options to get moving again that you may not have even considered, and flipping the idea of exercise from something daunting to something fun that you want to come back to again and again.
Today I'm joined by USA Pickleball Ambassador, founder of Breakthrough Community Sports, Inc., owner of Pickleball 4 Life, LLC, senior athlete, and breast cancer survivor, Helen M. White. She believes in the power of playing sports for all and is passionate about sharing the joys of pickleball with others. Get ready to be inspired by Helen this week and head out to try some pickleball!
We're diving into:
Helen's own breast cancer journey with invasive ductal carcinoma at age 64

The fun way she took control over her frequent radiation treatment to help her get through it with a positive mindset

How Helen worked through the anger she felt around her diagnosis and moved into a positive, uplifted space

Her experience with APBI (accelerated partial breast irradiation)

The "gotcha" Helen didn't expect after treatment and how she managed it

Her favorite tip for making frequent blood draws easier

How Helen and I each weighed the pros and cons of AI (aromatase inhibitor) treatment and what declining it has meant for us

Possible side effects of AI treatment and how movement can benefit you if you are affected by them

The key diet change that occurred for Helen as a result of her cancer journey

Where pickleball got its name (no, it has nothing to do with actual pickles!) and why it's been a life-saver for Helen during her recovery (and it's a COVID friendly sport, too!)

Why pickleball is adaptable to where YOU are in your own fitness journey and is a great low-impact, fun activity to help you get active again
Meet our guest:
Helen began her career in 1975 as the DC area's first female Intramural Sports Director at Catholic University.  In 1980, she switched her focus to information management.  Her last job in that field was at the AARP Headquarters in Washington, DC.  After leaving AARP in 2007, Helen decided to pursue an encore career in sport management.  In 2013, She earned a Master's degree in Sport Management from The George Washington University, a month before turning 60 years old.
After being introduced to pickleball, a mini-tennis-like game, Helen saw the potential for people of all ages and abilities to play this lifetime sport, especially older adults.  In 2012, she became the USA Pickleball Ambassador for Northern Virginia and began promoting pickleball throughout the DC area.
In 2018, Helen was diagnosed with invasive ductal cancer.  After recovering from surgery and radiation treatments, she resumed playing pickleball.  This game is a life changer for many of those who play it and inspired her to share her passion for the game with people who have a cancer diagnosis.  She has led special Introduction to Pickleball sessions through Life with Cancer, the Virginia Hospital Center and 2Unstoppable.
Want to appear as a guest?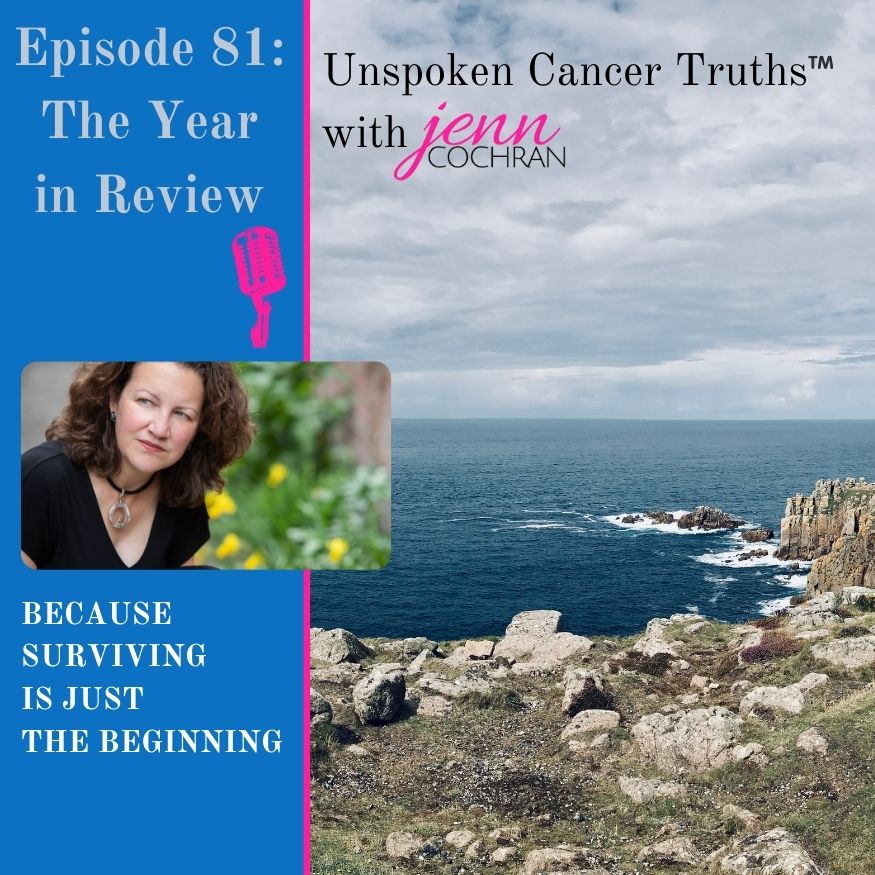 Episode 81: Unspoken Cancer Truths: The Year in Review I can't believe we are at the end of 2021! It has been another amazing year of Unspoken Cancer Truths™, and I'm so glad you've joined me along the way. In this episode, I'm recapping a snippet of each episode,...
read more