Episode 55: My Journey as a Mom of an ALL Survivor w/ Sharon Bryant Baumgarten
Sharon Bryant Baumgarten will never forget the exact moment she received the life-changing news that her 9 year old son, David, had leukemia.
The whirlwind diagnosis took their family on a journey through the struggles of cancer and its treatments, especially on a young child. In this episode, Sharon — a retired educator, mother of two, and now a grandmother — is sharing her experiences as the mother of a survivor of high-risk Acute Lymphocytic Leukemia (ALL).
She shares with us how the cancer journey inspired her son David (and their family) to live life fully, the power of community and philanthropy, as well as the lessons she learned about overcoming challenges to find purpose in the face of hardship. 
We're diving into:
What surprised Sharon the most when she first walked into the children's oncology office

Small yet powerful ways the community reached out to help create normalcy for David and his family (and why Sharon always accepted help, even when she didn't think she needed it)

How Sharon overcame the challenges of getting David back to school

The people also impacted by a cancer journey who are often overlooked

The unexpected family addition that gave David and his family companionship, responsibility, and purpose

The 3 most important lessons Sharon learned on the cancer journey with David

Where is he now? Sharon shares about David's recovery, accomplishments, and endeavors to continue to be involved in philanthropy

The many ways the Leukemia and Lymphoma Society (LLS) made an impact on David's cancer journey, and how the organization continues to lead the way in research

And much more!
Get involved with the Leukemia and Lymphoma Society by visiting their website.
MEET SHARON
Sharon Bryant Baumgarten is a wife, mother to 2 children, grandmother to 3 beautiful grandchildren, and a retired educator. She enjoys playing with her grandchildren, quilting, sewing, and her recent endeavor is learning to knit. She became involved in Leukemia Lymphoma Society's (LLS) Team in Training (TNT) by accompanying her son, David, as he was involved in TNT. Team in Training provided an opportunity for Sharon, David, and her family to shape the experience of David's journey with ALL by supporting and helping others in the same situation.
Her challenge came in 2013 when David encouraged her to participate in the DC Nike Women's Half Marathon with TNT. At the age of 55, having never run before, she began to train for this event. This opportunity also provided her with a means to encourage the children in her school to set goals, meet challenges, and support others in doing something they thought might not be possible.  Today Sharon continues her philanthropic involvement by knitting caps for Zoe's Hats, an organization that provides hats for premature infants and Click for Babies, an organization which raises awareness for shaken baby syndrome.
Sharon lives by the words of Sophocles, "Look and you will find it. What is unsought will go undetected." It is her sincere hope that others in difficult situations will find comfort and support in her experiences as the mother of a child, whose journey through treatment for leukemia was fraught with many challenges, yet that time has only created a positive and rewarding impact upon her life and the life of her family.
Follow me on Instagram to get the latest updates on the podcast.
 Continue the conversation in my free private Facebook group, Surviving is JUST the Beginning.
Join me for a Coffee Chat here.
Want to appear as a guest?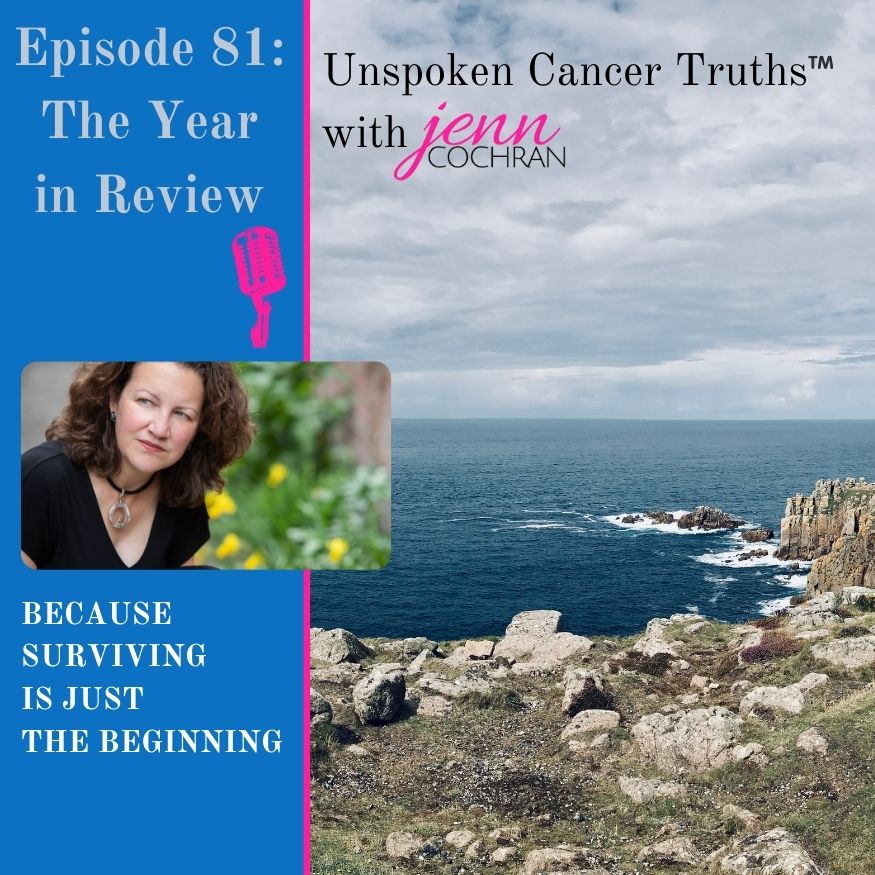 Episode 81: Unspoken Cancer Truths: The Year in Review I can't believe we are at the end of 2021! It has been another amazing year of Unspoken Cancer Truths™, and I'm so glad you've joined me along the way. In this episode, I'm recapping a snippet of each episode,...
read more