CCn with Jenn Cochran:
Episode 18 Dr. Suzie Carmack
My guest this week is Dr. Suzie Carmack. She is a well-being promotion researcher, strategist, author and scholar, Dr. Carmack is transforming the ways that well-being is experienced in healthcare, workplace, and education settings. She is the author of three books including Genius Breaks and The Well Being Ultimatum. She is an international speaker who has delivered over 150 customized keynote talks and tailored training workshops and she has personally coached over 1000 leaders to optimize their well-being. She teaches in the graduate healthcare management program at the American University, and trains the future well-being coaches of tomorrow to become board-certified by the National Board of Health and Wellness Coaching and researches the effects of well-being coaching on clinical outcomes, through her online academy, YogaMedCo.
Want to appear as a guest?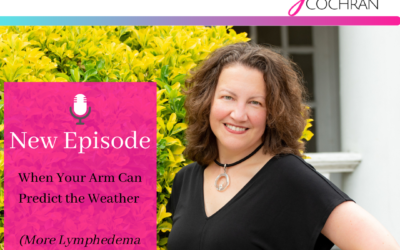 Episode 42: When Your Arm Can Predict the Weather (More Lymphedema Facts and my Favorite Tips for Managing It!) If your arm can predict the weather within a 48 hour window, then you know the struggles around this condition that isn't talked about nearly enough:...
read more