UCT with Jenn Cochran, Ep. 29: Self Care as a Caretaker with Jennifer Downing
It doesn't take a personal diagnosis of cancer to forever change someone's life; the journey and story of a caregiver to a close family member with cancer is one that is important to tell as well. Today I'm joined by Jennifer Downing, who shares with us her own journey through her sister's cancer journey and loss, and how it's shaped how she moves through her life moving forward.
In today's episode, we explore:
– The shocking discovery of her sister's rare form of ovarian cancer at age 37
Supporting someone through remission and relapse
– The importance of self care and boundaries as a caregiver
– How yogic philosophy helped Jen to bond with her sister further during her cancer journey
– Jen's struggles in her grief journey and how she is working through them
– The evolution of caregiving roles in a family
– How her social perspective changed through her sister's cancer journey and her own caregiver journey
– The profound reminder she received during her sister's cancer journey that helped give her peace practicing self care while her sister was in the hospital
Jen is a type A personality in recovery, following her passion of teaching therapeutic yoga primarily to women with autoimmune conditions. She lives in the Washington, D.C. area, loves a good cappuccino, and Netflix binge with her fiancé/ "future yoga husband." You can find her @zen2thejenn and Well + Zen Yoga
Want to appear as a guest?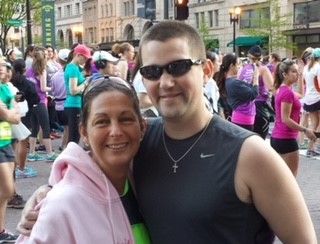 Episode 55: My Journey as a Mom of an ALL Survivor w/ Sharon Bryant Baumgarten Sharon Bryant Baumgarten will never forget the exact moment she received the life-changing news that her 9 year old son, David, had leukemia. The whirlwind diagnosis took their family on a...
read more